---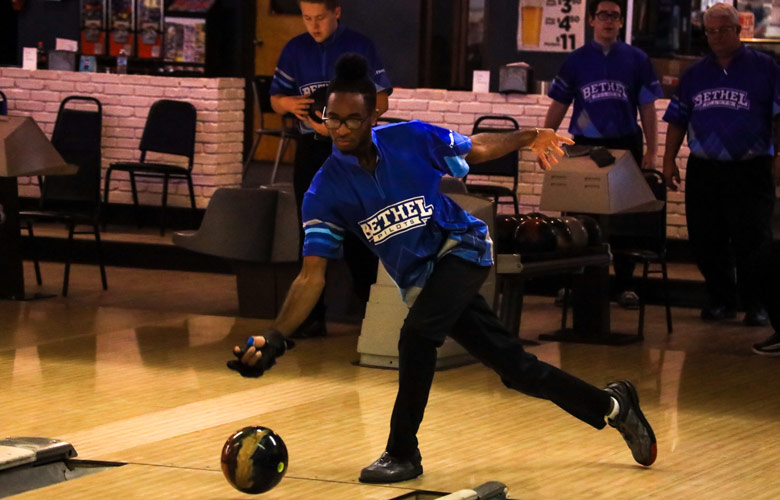 MISHAWAKA—The Pilots' bowling team has faced several challenges in kicking off its program. From having its inaugural season cut short to having an unusual off-season and now having to bowl in six tournaments in six weekends, the team has had to grapple with one learning curve after another. This has not, however, changed how Head Coach Chris Adams prepped his team for this season.
"Our season got shifted around quite a bit," said Adams. "All of our points tournaments that normally start in September got moved to after the first of the year. So normally, you are able to pick and choose from around 30 to 40 tournaments, are now being crammed into a 10-to-12-week period."
To start the year, the bowling team announced that they would be joining the Wolverine-Hoosier Athletic Conference for the 2020-21 season. Although they have gotten off to a slow start as a team, they have been able to show some very impressive individual performances. In their first weekend of competition, the women were able to place two bowlers in the top five in the tournament. Both Lauren Jackson, who finished fourth, and Erika Toops, who finished fifth, showed that they were going to be able to compete at a high level this season. They backed that up with another strong showing this past weekend in Jackson, Mich., with a pair of top-25 performances.
"It means a lot to the girls' side," said Adams, "They have been put in some difficult situations over the last two seasons, so to be able to find some success has been encouraging. The guys have struggled a bit, but it's given them something to gather around, and rally around one another."
The men did not place anyone in the top-25 in their first tournament of the season but were able to place Dakota Saunders in the top-25 in the second tournament of the season.
"We are in a much harder conference in the WHAC," said Adams, "If we averaged 200 in a tournament last season, we would be placing top three to four. Now in the WHAC, we bowl that and close to ten teams are doing that. It's definitely been a learning process for me and refocusing them to get better."
In their first three tournaments of the season, the men have finished last in each of the first three events. The women have finished eleventh in two of the three first events.
The team will next be in action on Feb. 13 at the fourth WHAC Jamboree in Adrian, Mich. For more information on Bethel bowling visit www.bupilots.com. 
Print