---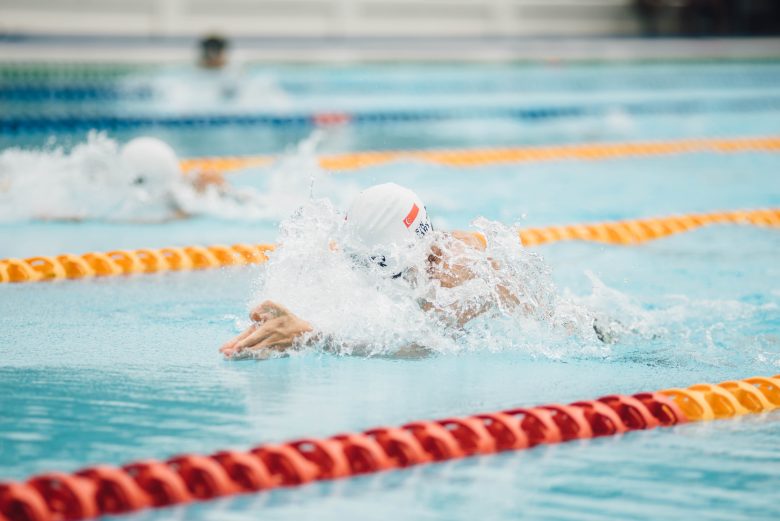 MISHAWAKA, IN—I felt my fins get cold, or what was that word again? Oh yes, feet. My feet were cold as I got closer to jumping into the chlorinated water. I knew what was to come: chipped nails, frayed hair, dry skin, and bleached eyebrows. Trust me, mermaids are fairytales because no one can pull this look off. But none of these factors took away from my swimming at the new Beacon Health and Fitness Center in Elkhart.
The facility is about 20 to 30 minutes away from campus, depending on traffic. The car rides can be long, but it's nothing that some good music and conversation can't fix.
As a team, we are all fortunate to swim in such an amazing and impressive facility. Walking into the facility, it still had that new building smell. Every visible surface was clean, and some parts even looked untouched.
Walking towards the pool from the locker rooms you have to pass through a windowed hallway looking out into the pool area. As soon as you open the door, you are struck with amazement because of the space. Walking onto the other side of the pool, you get a view of the seating area.
Let's just say that swim parents are going to be grateful for new and improved seats compared to the bleachers they sat on at our high schools.
The Center provides the Bethel swim team with a ten lane Olympic pool with two bulkheads to adjust the size. We have the opportunity to practice in eight lanes with a 25 or 50-meter length, or even at 25 or 50-yard lengths if we so desired. Unfortunately, since we don't have a dive team yet, there are lanes under the Olympic diving platforms that are open to the public as we practice.
At around ten feet deep, the pool is perfect for swimming fast and for breaking records. A deep pool is something to get excited about as a swimmer.
One of many positive attributes that Coach Deb Thompson possesses, is her engagement with the entire team throughout practice. Even though this leaves little to no room for lanes to skip yards, her involvement with each step of the way is going to create a foundation for her to know our skill sets and be aware of our habits during practice times.
The majority of the team are freshmen, with the exception of a couple. Knowing this makes a lot of what each student-athlete is going through individually a bit easier knowing that we are all going through the same thing. It is Bethel's first year with a swim team and we just have to remember to just keep swimming.
Print