---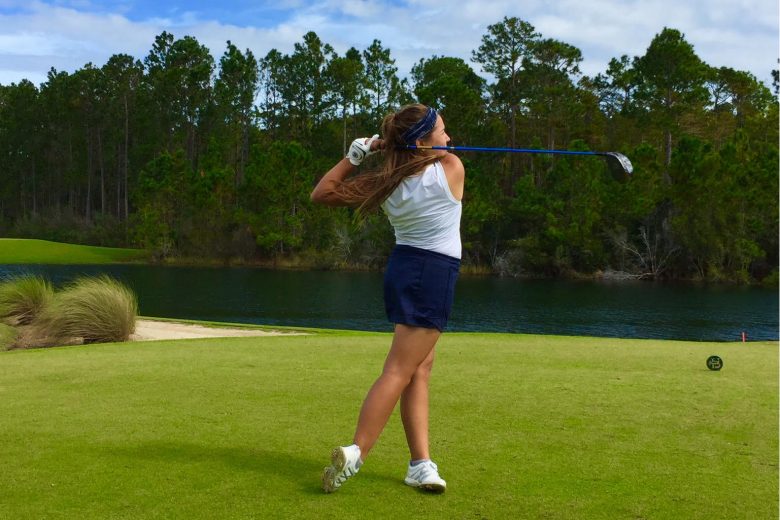 This week, we highlight Bethel College's first ever NCCAA All-American for women's golf: Jaycee Bunner. Bunner is a newer face at Bethel College, being a junior transfer from NCAA Division II school Armstrong State University.
However, it's taken her very little time to fit right in. She quickly became one of the leaders in finishing on her team. She also recently helped the Pilots achieve a 5th place finish at the NCCAA women's golf championship. She shot a +16, putting her in 8th place overall individually and winning her NCCAA All-American honors, since she placed in the top 10.
Q: How has Coach Hess helped your game, if at all?
A: He's really helped me build confidence this season. Coming in new, that's really helped, and if I have some (struggles in) a part of my game like putting, he'll take me out on the course and really help me work on it specifically.
Q: What made this fall season of golf different from previous fall seasons?
A: Well, considering I'm at a new school, this semester is a lot different. It's been really nice. My parents can come and watch me at a couple competitions, because I live in Fort Wayne, and they haven't been able to do that for my first two years. So, it's really nice to have them around and just be closer to home. Q: Who has been your toughest competition this season? A: Team-wise, Taylor has been pretty good this fall. They've been pretty good competition. I think we beat them and they beat us, kind of just like a back-and-forth thing. Q: When did you first pick up the game of golf? A: I've always played it, my whole life. Even when I had little plastic clubs when I was younger. So, it's not really a specific starting point, but just my whole life. Q: Why have you stuck with golf after all of these years? A: My family's really big into it and I've always wanted to play. I've played in tournaments since I was five. So, I don't know, it's just a thing I do. I've (met) so many people through it, like a ton of friends from golf, and it's given me a lot of opportunities with college and everything. Q: What are some of your golfing philosophies? A: I don't really have specific ones, but my teammate's dad, he was the assistant coach for one of our tournaments, and he was like, "Jaycee, what's the most important shot in golf?" And I'm like, "I don't know." And he goes, "The next one." I was like, "Oh, that's true." My team really used that this fall, just focusing on the next shot, not really worrying about the last one because you have to keep on moving. It's a stressful game. Congratulations to Bunner on being the first Bethel College women's golf player to be crowned NCCAA All-American. Keep on the lookout for more interviews with some of the best athletes on Bethel's campus. (Slider photo credit: Bethel College Athletics)
Print