---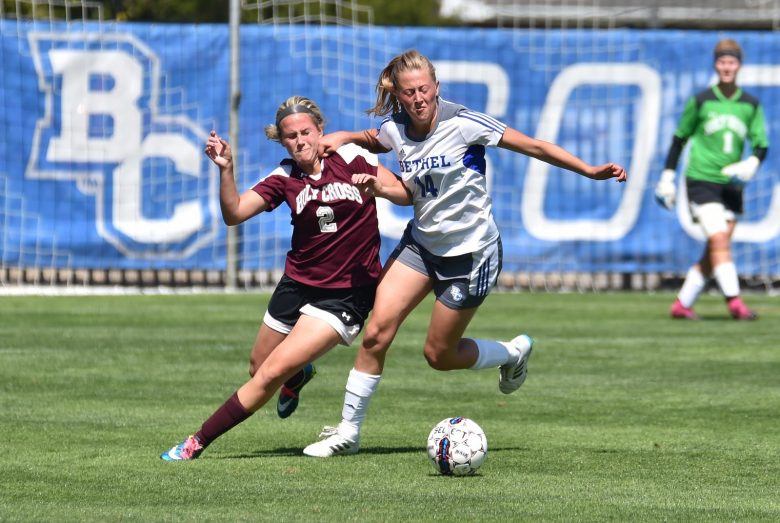 This week, the Beacon shines the spotlight on women's soccer player Kama Hardy. She has been a star player from the moment she stepped on campus, starting all fifteen games her freshman campaign and leading the team in both shots (20) and goals (4).
A common myth in every sport is the idea of a "sophomore slump" after having a great season statistically. Not Hardy, who currently co-leads in points (8), goals (2) and assists (4) with her teammate, junior Rebecca Kanpol. She also earned an honorable mention on the NCCAA North Central All-Region team and a spot on the All-Crossroads league team.
Hardy came up in clutch moments of two games, one go-ahead goal against Goshen College on Oct. 4 and a game-winning goal against the University of St. Francis on Oct. 17.
Q: What has made this season of soccer different from previous seasons? A: I think this season, we had greater numbers on our roster than in previous seasons, which helped us to be more competitive at practice. The difference in practice reflected our game performance. Our chemistry with my teammates really helped too. We all were trying to compete to our best potential, so we really pushed each other in practice. Q: When did you first pick up the game of soccer? A: I started playing when I was three [years old] at the YMCA and my mom was my coach. Q: Who do you look to for advice on the game? A: My coaches. They help me to grow in every aspect of my game, and in my faith too. They are always encouraging me to be the best in everything that I can do. Q: Which aspects of the game do your coaches work with you on? A: Jaimie works with me on my form and shooting because I'm the forward, which means I have to score the goals. Q: Why have you stuck with soccer after all these years? A: I've enjoyed it and it has given me great opportunities. Last year, we went to Guatemala on a missions trip, and that was something I never expected to do or imagined I would be a part of. My family is also really involved with soccer. It's something we all connect on. Q: What are some of your soccer philosophies? A: The biggest one is "control what you can control." You can't control the referees or the weather or the other team, but you can control your effort, attitude and how you react to things that happen during the game. Q: Where have you shot your most difficult goal on the field? A: This past season, we played St. Francis, and that was a really big game for us because it was a conference game and we ended up going into double overtime. I scored the [winning] goal in double overtime. It was a big win because it helped us get to the conference tournament. The
Beacon
wishes Hardy and her team the best of luck as they move into the offseason, hoping to have a better performance in Crossroads League play and qualify for the NCCAA tournament. Keep on the lookout for more profiles of the best athletes on Bethel's campus! (Photo Credit: Bethel College Athletics)
Print