---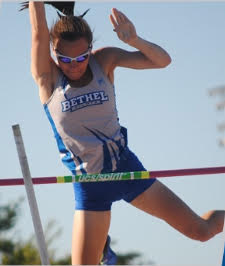 To conclude the school year, the Beacon talked to women's track and field pole-vaulter, Danielle Wojciechowski. Wojciechowski, a junior physical education major, has been soaring to new heights ever since she started vaulting in high school. Her freshman year, she competed with Olivet Nazarene University, where she won the Chicagoland Collegiate Athletic Conference Championship in women's pole vaulting with a height of 12'0.5" and placed sixth in the NAIA Outdoor Track & Field Championships.
The next year, she transferred to Bethel College, where she surpassed her competition without batting an eye. She claimed both women's indoor and outdoor pole vaulting records, while winning all four-national championship meets in a single season (NCCAA indoor, NAIA indoor, NCCAA outdoor and NAIA outdoor).
This indoor season, Wojciechowski still won the United States Track & Field and Cross Country Coaches' Association Regional Athlete of the Year and claimed another NAIA All-American bid, but placed fourth in the NAIA championship meet.
Q: Who has helped you develop your vaulting form over the years? A: I had a really good coach in high school. Coach Larson was fantastic. He taught me more than just the basics. He helped me get recruited into college [for] vaulting. Danny Wilkerson, who's the [assistant] coach here, is phenomenal and has helped me with my technique a substantial amount over the past two years. Q: What has made this season of track and field different from previous seasons? A: This season has been rough for me, which I haven't had a rough season in a while. I'm back on track as of last meet. I had five rough meets this season. This last meet, I was able to pull myself together enough where I was able to do decent enough. Q: When did you become involved with pole vaulting? A: My freshman year of high school. My coach said, 'Anybody with a gymnastics background of any kind, hey, you're going to come over and try this.' I did gymnastics for a lot of years growing up, so I went over to try it and fell in love. Q: Why have you stuck with pole vaulting after all these years? A: I started off being naturally good at it and then, I like a challenge. There was something I felt like I could keep getting better at and there wasn't really a stopping point. You can only be only so good at basketball or so good at volleyball. Pole vault is one of those sports you can keep doing and keep getting better at. It's also very much an individual sport. You're only relying on yourself and the success of yourself. Q: What are some of your pole vaulting philosophies? A: I don't like to think about much [when vaulting] because it throws me off. I think about all the stuff I need to do before I step out on the runway and as soon as I step out on the runway, it's clear mind and do what I know how to do. Q: Do you have any stories involving any annoyances you may have experienced with the crossbar? A: I hate when they put the crossbar at the bottom peg when the height is higher than the bottom peg. It drives me nuts at meets. The
Beacon
wishes Wojciechowski the best of luck this outdoor season, as she looks to defend her championship titles and help the Lady Pilots post a good performance as a team. Be sure to check in on the track and field team's status at
http://www.bethelcollegepilots.com/index.php
.
Print