---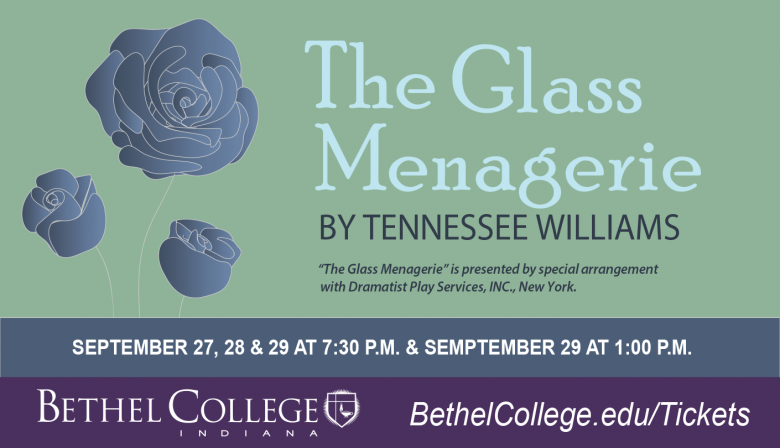 MISHAWAKA, IND. -- On Thursday, Sept. 27, the Bethel theater department will open its 2018-19 season with "The Glass Menagerie," by Tennessee Williams. Performances will be in the Everest-Rohrer auditorium on Sept. 27 and 28 at 7:30 p.m. and on Sept. 29 at 1 p.m. Tickets cost $10 for all seats.
The play follows the story of Amanda Wingfield and her two children: Tom, who works in a nearby factory, and Laura, who is crippled. Amanda desperately wants Laura to marry and asks Tom to invite an eligible young man from the factory to come over for dinner. Tom obliges, and the results are awkward, amusing and dramatic.
Kayla Rundquist, a senior theater arts and English writing double major, is directing the play.
"In a work like 'Glass Menagerie,' there's so many themes, you could pick a lot of them," said Rundquist. "That's why we still do a play that was written 50 years ago."
As a director, Rundquist's responsibilities range from orchestrating the positions of the actors while they're on stage to making sure that details such as costumes and lighting are just right.
"What a director in general does is steer the ship of the show," said Rundquist. "I talk to the designers of the set, and the lights, and the costumes, and I tell them about what my vision for the show is, and then we collaborate as a team and they bring their ideas about how to execute that vision."
Hope Nofziger, a junior American Sign Language interpreting major, will be playing Amanda Wingfield.
"Amanda is a very complicated character," said Nofziger. "She has very different relationships with everyone on stage... every time I go on stage it's 'How is Amanda acting now?', so that's been challenging."
Rundquist explained that the show has been challenging to the actors partially because of the emotional depth of it.
"Tennessee Williams chocks his show full of symbolism, and metaphors, and double meanings, and character questions," said Rundquist. "Sometimes one line could mean multiple things so... it's difficult for young actors and a young director to really dig as deep as we can get."
Both Rundquist and Nofziger encouraged people to come out and see the show for themselves.
"It'll be an interesting show for people to watch," said Nofziger. "[The audience] will be sitting right around the stage, two feet away from us, so there's some cool aspects about that."
"It might seem that there's nothing flashy about it, nothing exciting, there's no tap dance numbers," said Rundquist, "but I think when you strip away the flashiness, sometimes... it [makes it] a really human play, and I enjoy that."
Print