---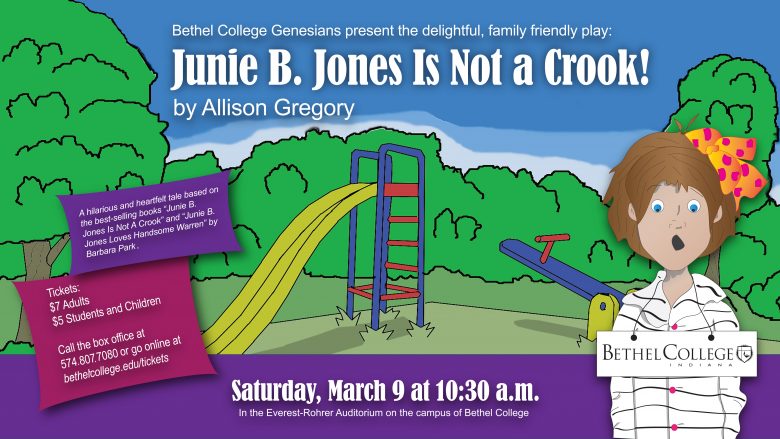 MISHAWAKA—On March 9 at 10:30 a.m., the Genesians will perform "Junie B. Jones is Not a Crook," by Allison Gregory, based on the books by Barbara Park, in the Everest-Rohrer Auditorium. Tickets are $5 for students and children and $7 for adults; to purchase tickets, visit tickets.bethelcollege.edu, or call the box office at (574) 807-7080.  
The play follows seven-year-old Junie B. Jones; after the special furry black gloves her grandfather gave her go missing, she sets out to find and expose the culprit. 
Theatre Department Chair Don Hunter is directing the play.
"We try to make the show accessible for kids in elementary school," said Hunter. "[Junie] learns the difference between 'finders-keepers, losers-weepers,' and turning things in lost and found, because it's better for you and for the other person." 
Ashley Velleco, a sophomore American Sign Language Interpretation major, is portraying the leading role of Junie.
"She learns a lot of lessons on the way," said Velleco. "She... finds out about friendship and being true to herself... she's very outgoing."
Velleco has been acting since 5th grade and this is her second year with the Genesians. Velleco said one of the difficulties of portraying Junie is imitating kindergartner behaviors.
"As an actor, I work physically first, and then go internally," said Velleco. "For Junie specifically... the voice... how would a seven-year-old sound? But a lot of it's the mannerisms too."
Velleco is a nanny to four girls and a baby and says that her experiences with them have been helpful in getting into character.
"How can I take some of what they do and find it within myself to become my own seven-year-old version of myself?" said Velleco. "I really just can't remember at this point what I was at seven."
Velleco encouraged students to come see the show.
"If you can, bring anyone who's younger," said Velleco. "Or if you're just interested in theatre for young audiences, it's a different style of theatre than what people have seen here at Bethel or other productions." 
Print