---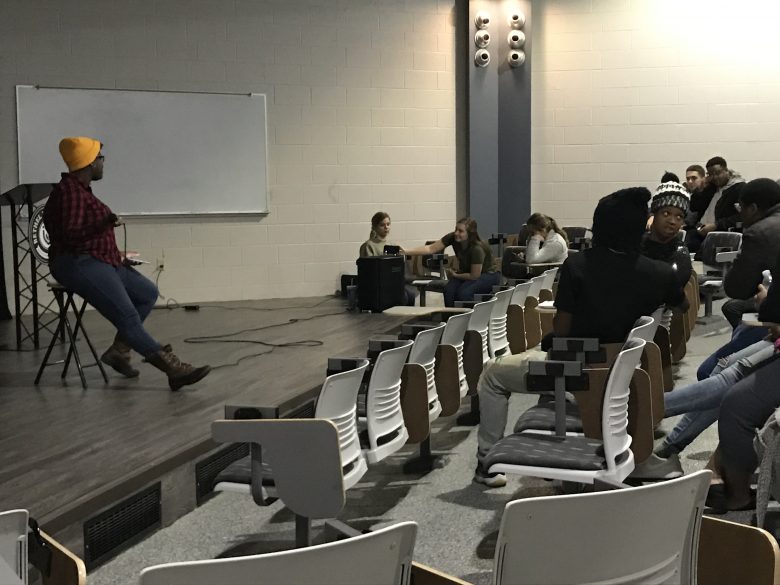 Paraphrase, Bethel's open mic night, took place on Nov. 15, opening up the auditorium to a plethora of students wishing to share their artistic talents in a stress- and judgement-free zone. This passion project of Stephanie Ferrell, Bethel's graduate assistant resident director, was created one year ago. Paraphrase's tagline is "God's grace in your own words," as the event is meant for the creatively inclined Pilots to glorify God through their gifts of singing, dancing, poetry, and any other talents they might have.
Prior to the start of the event at 7:30 p.m., students were able to sign up for a performing slot in the show. Shortly thereafter, pizza, cookies, chips, and drinks were served to any who wanted them with plenty to go around for all who attended. After the sign-ups, the attending students all filed into the Kelly Auditorium and awaited the coming performances.
The majority of the talent on display was singing and poetry, with a few dancers, and even an impromptu sermon delivered by a Christian Ministries student. After the first few students had gone up and diffused the tension in the room, there was no shortage of people volunteering their friends to go onstage. Surprisingly, however, everybody who was invited to perform, even if they weren't on the list, decided to share their talents with the crowd.
That was one of the main points of Paraphrase. Stephanie Ferrell said, "this is the place where fear goes to die," and the accommodating and encouraging nature of the audience were evidence enough of this fact. Everyone in attendance cheered on those braving the stage and gave them warm congratulations after they had finished.
Summarily, Paraphrase was a wonderful exhibition of Pilot talent in an anxiety-free zone, one that every participant was all too happy to take part in. With this kind of enthusiasm, Paraphrase has done a wonderful job engendering an atmosphere of acceptance and talent.
Print