---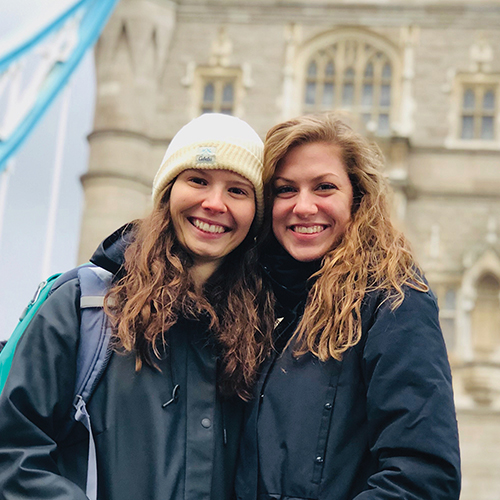 MISHAWAKA—Bethel affords its students many opportunities to expand their horizons and travel abroad, including various semester abroad opportunities. One of these opportunities allows students to study on location at the University of Oxford in England, and last spring, two Bethel students were recognized for their academic excellence while studying there.
Senior Suzie Miley and junior Abby Roeder received the distinguished de Jager Prize for exceptional academic performance, an honor granted to only 10 students. The prize is awarded by SCIO (Scholarship and Christianity In Oxford), a program that allows visiting students from CCCU (the Council for Christian Colleges and Universities) schools to study at Oxford.
Miley, an English and Philosophy double major, took courses titled "Modern Literature" and "C. S. Lewis in Context" during the first eight weeks of her time in Oxford.
"What I was doing was pretty much reading a novel a week, writing an argument on that novel, and submitting it," said Miley.
Roeder is an economics and philosophy double major, and she took courses in "Theories of the State" and "Modern Philosophy."
For the final four weeks, Miley and Roeder had an undergraduate research seminar and a British cultures course. Roeder focused her research on the philosopher John Locke.
"I was writing on John Locke," said Roeder, "comparing his more well-known writings with some of his lesser known writings and interpreting them through each other."
Both Miley and Roeder were pleasantly surprised by the award.
"I was very honored to be recognized by something like that," said Miley. "I think I was excited at the fact that my work was recognized; I felt like I really poured my heart and soul into my Oxford experience."
"It was nice to be rewarded for something I did in Oxford," said Roeder. "I appreciate it."
Miley encouraged other students to take advantage of this opportunity if they can.
"It was an adventure, it was a journey of growth and transformation, and I am so grateful that I was able to go," said Miley. "I'm really grateful to my professors and my closest peers for shaping me in a way that I was able to succeed there, because I couldn't do it without everyone else."
Print