---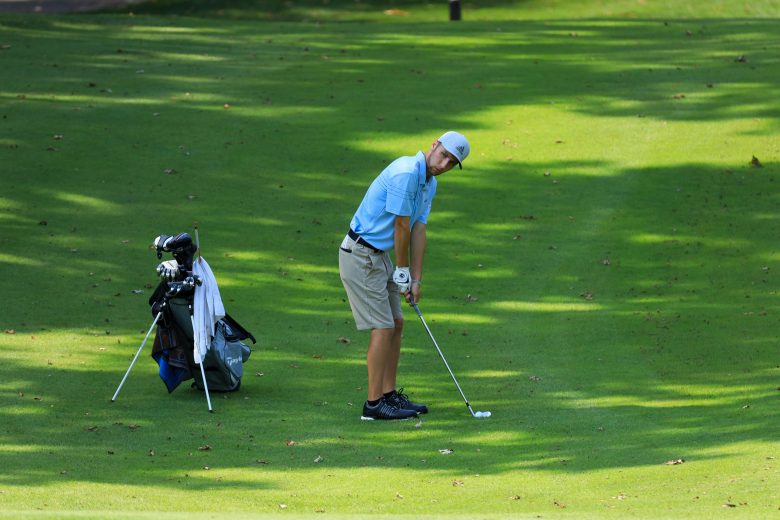 MISHAWAKA--Like many sports teams across the country, the Bethel Men's Golf team faced a series of challenges due to COVID-19. Three of the team's golfers tested positive for COVID-19 in the middle of their season, which prevented them from playing in two of their scheduled tournaments.
"We got to go out and play one time over those two weeks [of quarantine]," Senior Luke Hillegonds said. "And…we only got to do that. It was kind of difficult because we had a tournament coming up the next week once we got out."
As a result, the men's golf team only played in two tournaments this fall: the Harbor Shores Intercollegiate and the NCCAA North Central Region Championship.
Only five players from the Bethel golf team can officially compete in tournaments. When the three quarantined Bethel golfers were cleared to return to practice, they played a game of golf against their teammates for one of the five spots.
Senior Reilly Troyer said returning from quarantine and competing against his teammates was difficult. The skill level of each Bethel golfer is so close that the team did not have an exclusive, standout five guys who were guaranteed to play in every tournament.
In addition to the disruption of quarantine, the men's golf team also gained a new head coach prior to the fall season's start.
In April, then-Head Coach Adam Sharp told the team he was stepping away from the position after four years. Sharp became the assistant coach of men's golf in order to devote more time to his full-time position at St. Mark Missionary Church in Mishawaka, IN.
"I think we were just really good friends with Coach Sharp, so it was kind of we weren't really sure what to expect going in, what kind of relationship we'd have with the new coach," Junior KJ Haverdink said.
On April 27, the Bethel University Athletic Department announced John Fischer as the new head coach. Fischer has been a Professional Golfers Association (PGA) teaching professional for over 35 years. He also continues to serve as the Director of the Lifestyle Junior Golf Tour, a position he has held since 2010.
"We have 405 kids from Northern Indiana on our tour," Fischer said. "That tour started 10 years ago when I took it over and had 30 kids and 3 girls. Now, ten years later, we have 405 juniors from collegiate down to eight years old playing our tour."
Fischer said he received a nice welcome from the Bethel community when he came into the job.
Some of the primary changes Fischer has brought to the men's golf program are getting his players on a low-carb diet and a three-days-a-week intense training program. The diet requires the athletes to consume less sugar, less carbs and drinking more water in order to maintain a healthier fitness level. Fischer said the training program, which involves weightlifting and cardio, will increase his players' strength and stamina for the game of golf.
The team did not qualify for the National Christian College Athletic Association (NCCAA) National Championship like they had hoped. Their next goal is to comeback this spring to win the Crossroads League tournament.
"We have the talented players currently here at Bethel," Fischer said. "Bringing in a couple new recruits for next fall will help tremendously when we lose two or three seniors, but…again, it's going to be about discipline."
Print