---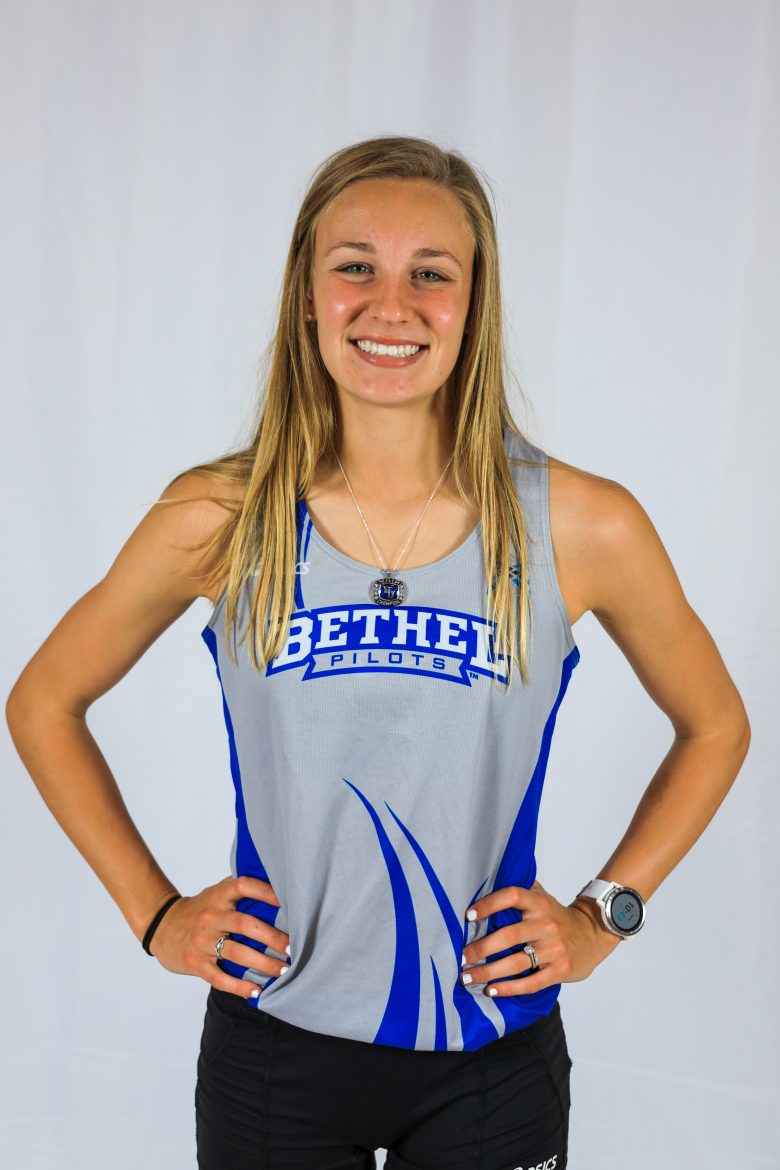 MISHAWAKA--Senior Emma Mott has cemented herself as one of the most storied athletes in Bethel University athletics history. In her three years at Bethel, Mott has broken the women's 5k race time on six separate occasions. She is the first and only cross-country athlete in Bethel's history to achieve NAIA All-American status.
She currently holds nine of the top-11 fastest 5k times in program history. Two of the most recent times Mott broke the program record came from back-to-back races on Sept. 11 and 19 respectively. Both of those race finishes are the only two times a Bethel women's cross-country runner has run a sub-18 5k.
"One of my goals was definitely the under-18 minutes for the 5k, so that felt pretty good to accomplish that," Mott said.
But one of the greatest athletes in Bethel women's cross-country history almost did not come to Bethel.
She started out her college career at the University of Dayton. While Dayton had a great cross-country program, Mott said the school did not fit her. She transferred to Bethel the following year.
"I think the transition was easier than I expected," Mott said. "I didn't necessarily want to start all the way over again after having gone to a new school the previous year."
She credited her Bethel cross-country teammates and Coach Ryan Sommers for making the transition to Bethel easy. From the Christian atmosphere of campus to the friendliness of her teammates, Mott said she felt welcomed.
Some of her favorite moments with the team are on the rides to and from the meets. While her team remains serious about preparing for competition, the moments of playing games in the hotel rooms and hanging out with her teammates help build team chemistry.
"Even though we're not all running together at the same time, we'll pray for each other during the race," Mott said. "So, something like, 'God, please help this person feel strong and just stay confident to be able to push through.'"
On an individual level, Mott said she tries to block out any thoughts of doubt from her mind during a race. If she starts to think about pain or discomfort she experiences during a race, she loses confidence.
The toughest course Mott has raced on during her time at Bethel is Bobcat Cross Country Course in Point Lookout, MO. The course's terrain is hilly, and Mott recalls two specific hills that each seemed to stretch on for a quarter of a mile.
Despite the course's difficulty, Mott won back-to-back individual NCCAA national championships there. She is currently the only Bethel women's cross-country runner in program history to be crowned as an individual national champion.
Even though she has accomplished so much already, Mott said there are small areas where she can improve. She is currently working on gaining the confidence to start out her races at a faster pace.
"I like to kind of take it a little slow and steady at the beginning and then pick it up later," Mott said. "I know I need to start out a little faster to keep improving my times, so I think the mental side of that is getting more comfortable and confident with starting out faster and believing I'll have enough at the end to finish strong too."
Outside of cross country, Mott already earned her bachelor's degree and is currently working towards her master's in business administration (MBA). She recently married Bailey Mott, a soon-to-be senior at Bethel.
She is not sure what her future after college looks like, but she knows she will miss running with the cross-country team.
"I'm really thankful we got the season this year," Mott said. "A lot of people don't. So, I'm very thankful that I get to finish out my senior season and I'll definitely miss…being around the girls, being on a team and competing."
Print