---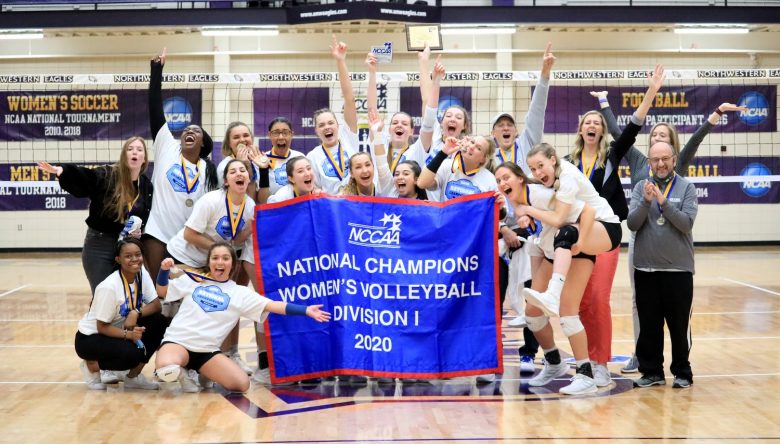 MISHAWAKA—The 2020 Pilots' volleyball season was nothing short of spectacular. A season ago, the Pilots finished 13-23, 6-12 in the conference, and finished eighth in the Crossroads League with a quarterfinal exit in the conference tournament at #3 Indiana Wesleyan. Fast forward about a year later and the Bethel Pilots are NCCAA National Champions. 
How did a bottom-feeder in the Crossroads League turn themselves into a national championship winning team? One important factor was Head Coach Katie Weiss bringing in two impact freshmen. Isabelle North, out of Fort Wayne, Ind., was not only named to the Crossroads League first team but was also named Freshman of the Year. The list of accolades for the freshman goes on and on; in the championship game, she led the Pilots with 20 kills and 11 blocks, which is third most in program history for a single match.
"Izzy has been outstanding for us," said Weiss, "She is second in the NAIA in blocks, and when you can do that as a freshman, what more can you say. She has given us a huge boost defensively."
The second impact freshman is Maddy Payne, out of Nappanee, Ind.; just like North, Payne was named to the Crossroads League first team and the All-Freshmen team. Her list of accolades is also extensive, and she was also clutch when the Pilots needed her most in the championship game. She posted a stat line of 20 kills and six blocks and was named to the All-Tournament team.
"To only be a few blocks of Izzy, and to lead us in kills, she gave us an amazing spark as a freshman, said coach Weiss.
As crucial as the freshmen have been for the Pilots, the backbone of this team is its senior leaders and its head coach. Coach Katie Weiss is in her fourth season as the team's head coach, and in her first year secured the commitments of Payton Hart and Abby Armold. Armold, in her senior season, has turned into the senior backbone of this team.
"Both Payton and Abby are able to give us a ton of leadership on the court," said Weiss. "They give us a boost both offensively and defensively, and then we are able to back it up with the rest of the team."
Heading into the NCCAA National Championships, the Pilots were coming off of a Crossroads League semi-final loss to #1 Marian but claimed nine All-Crossroads League honors, including Freshman of the Year for Isabelle North and Coach of the Year for Katie Weiss. They also boasted two players on the All-Crossroads League First team, Isabelle North and Maddy Payne, with Madyson Beaver and Jackie Fernandez being named to the All-Crossroads League second team and Payton Hart receiving an All-Crossroads League Honorable Mention.
"We are better than we have ever been offensively," said Weiss. "We have also been fortunate to have the top two blockers in the NAIA. And when you can mix offense and defense it makes us stronger than we have been in the past."
The Pilots traveled to Saint Paul, Minn. for the NCCAA National Championship on Nov. 19, 2020 and played five games in the span of two days. They took down Campbellsville (0-1), Grace (9-9) and Mid-America Christian (9-4) in pool play. Going into the semi-final, the Pilots knew that all that was left in their way was two games. They played Dallas Baptist (2-2) in the semi-final and won 25-19, 23-25, 25-16, 25-15. Their toughest test to date was awaiting them in the championship match: Northwestern (14-5) came into the tournament as the number one seed and tournament host.
The Pilots started the game slow dropping the first two sets to Northwestern, 25-19 and 25-21.
"I couldn't eat before the match," said Abby Armold, team captain, "although I think my nerves allowed me to become more excited and ready to be there. But, as a team, we were a little hesitant to start the final match. And then, I tried to start something in the team emotionally, in our huddles, to get us going into the third set."
"The first two sets, I was so disappointed." said Weiss. "We had played so well in the earlier parts of the tournament, and I was just battling with disappointment and confusion."
The tables started to turn in the third set and the Pilots went on a run. The Pilots were able to keep the lead for most of the third set, only losing the lead three times in the set. They would back that set up with more of the same, only losing the lead twice in the fourth set. They won the third and fourth sets by scores of 27-25 and 25-23, tying the game at two sets a piece as they went into the fifth and final set of the match.
"I knew we could rally," said Weiss. "My whole thought process was how I can motivate my team to win that third set. We took some timeouts that allowed us to shift our thinking on how we were going to be able to win this game."
The Pilots had all the momentum going into the fifth set, but this last set was not easy. Northwestern would force match point four separate times, and every single time the Pilots found an answer. It went to match point at 14-13, 15-14, 16-15, and 17-16. The Pilots then put together three straight points to claim their fifth NCCAA National Championship in program history. The Pilots last won the NCCAA title in 2002.
"It means a lot. It's something that I'll be able to cherish forever," said Weiss. "I just feel so blessed to be able to be a part of this and to be able to work with these girls. When I get to come to work every day and do what I love, I just feel lucky to be doing what I do."
Armold, who plans to graduate this spring with a degree in business management and pursue a job in the field of marketing and advertising, was grateful that the team's hard work paid off so well.
"When we scored the final point, it was almost a sigh, not of relief, but that we just did that and proved to everyone what we can do," said Armold, "This is everything that we worked towards. You talk about all the small goals that you set to get to the bigger goal. But to do it, was a cherry on the top."
The Pilots will kick off their spring season on Mar. 6 against Aquinas College at 6 p.m. For more information visit on Bethel volleyball go to www.bupilots.com.
Print