---
MISHAWAKA—On August 20th during halftime of the LaPorte High School football game, Men's Head Basketball Coach, Steve Drabyn, was inducted into the LaPorte High School Hubner Hall of Fame. He was joined by Terry Miller, Steve Lowe, Tom Dermody, and Jim Dermody.
From an early age Steve has been submersed into the world of basketball. Everything from watching the pros and collegiate athletes to being in the locker room during his dad's time as a coach. This led to him wanting, and dreaming, to one day play basketball at a high level.
"It all starts with my father." Coach Steve Drabyn said, "First watching him play in the adult leagues in La Porte and watching him play the game. I couldn't get enough of it, and he even tried to dial me back at times and take some time off. I loved playing, whether it be pickup or for school. It has drawn me to now being a coach to both share my love of the game, and my faith with my players."
During his time at La Porte High School, Drabyn became one of the most decorated La Porte High School athletes of all-time. Some of his accolades include making the most three pointers in a game at eleven, scoring 51 points in a single game, and scoring a total of 1417 points in his career. While at La Porte High School, he helped his team win four sectional championships during his high school career. He also loves having the people that have built him both as a person and a coach close to him. This includes his former teammate Greg Tonagel, who currently serves as the Head Men's Basketball Coach at Indiana Wesleyan University.
"Very humbled, very honored to have been inducted into the hall of fame in La Porte." said Drabyn,, "Being in a one high school town in Northern Indiana during the winter we saw some amazing crowds. It was just special to see all of our hard work pay off. Once a Slicer, always a Slicer.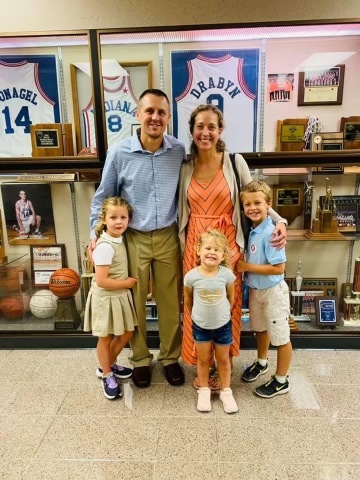 After his time at High School, Steve committed to the University of Belmont. While at Belmont, Steve was named to the Academic All-Conference team three times. After his playing career finished at Belmont, Drabyn had several coaching jobs as an assistant. This included his final job before joining Bethel as an assistant at Lipscomb. While at Lipscomb they won the Athletic Sun Conference and appeared in the NCAA Men's Basketball Tournament. Since joining the Bethel Men's Basketball coaching staff in 2019, Coach Drabyn has gone 45-22 including 18-18 in Crossroads League play. This includes an Elite 8 trip in the 2021 NAIA National Tournament. Although he built an incredible resume, Steve's biggest accomplishment is not on there.
"My biggest accomplishment is not awards, hall of fame, or accolades." Drabyn said, "It's the relationships, and impact that I've made on players and coaches. It has been nice to see some of my former players coming back and thanking me and my staff. Whether they realize that in the moment, or not it makes coaching worth it."
For more information about the Men's Basketball team visit https://www.bupilots.com/index.
Print