---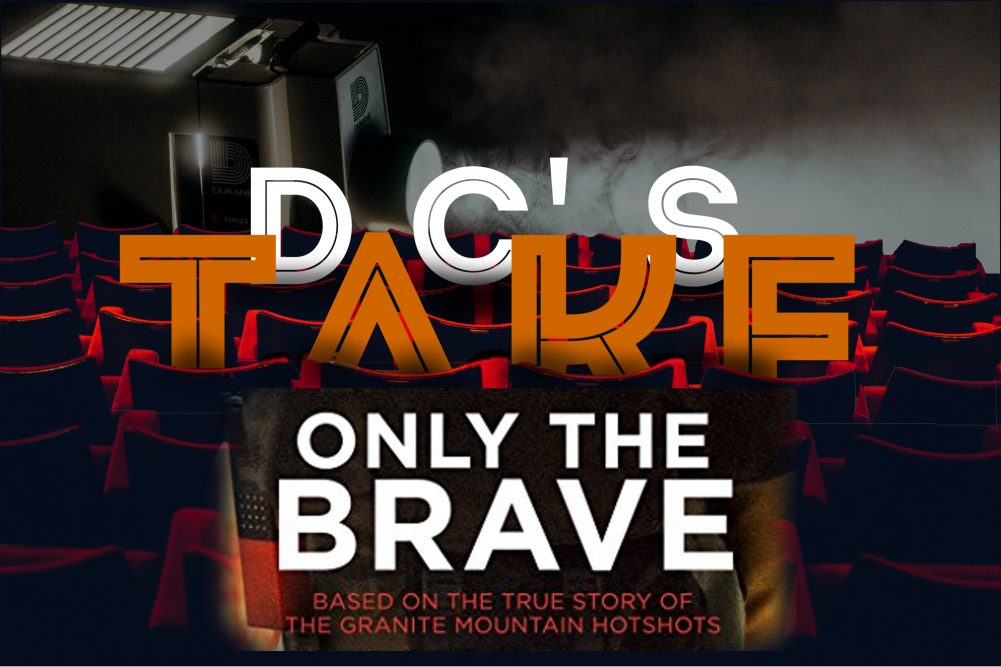 The greatest heroes who work daily to keep us safe in harms are firefighters. They are some of the most respectable men and women in the force, risking their lives to save us from danger in relations to fire control. Any movie that reads "based on true events" might keep you invested. There have been movies centered on firefighters, but "Only the Brave" might be on the most memorable in recent history.
Through hope, determination, sacrifice and the drive to protect families and communities, the Granite Mountain Hotshots become one of the most elite firefighting teams in the country. While most people run from danger, they run toward it -- watching over lives, homes and everything people hold dear, forging a unique brotherhood that comes into sharp focus during one fateful fire in Yarnell, Ariz.
I didn't know much about this story, but that's because I didn't know that this was a real team. They've been described as the Navy SEALs of firefighters. Based on Sean Flynn's article in GQ Magazine, "Only the Brave" could turn out to be a fascinating and heroic drama that could work very well, as most movies based on true stories tend to be. The first time I saw the trailer, I wasn't entirely interested at first. But by the end of "Only the Brave," I could definitely say it honestly surpassed my expectations. Josh Brolin always brings a lot to his performances, and that holds true as he plays Eric "Supe" Marsh, local fire chief of Prescott, Ariz. team. He's the main man who gives orders and the person in charge of the team. This is one of the best performances I've seen from him. The scenes with him and Jennifer Connelly (who also gave a great performance,) as his wife are some of the best moments of the whole film, as it shows off the great chemistry between them. Miles Teller as Brendan "Donut" McDonough, the underdog, surprised me by how great he was in this role. Normally, he has a tendency to not fully commit to some of his roles, but lately, he's gotten better. He stands out as a drug addict who wants to be a part of the team, in order to turn his life around while trying to raise his daughter. This is the best performance he's given since "Whiplash." Also, who would've thought that Teller would be in two movies about being a hero, with "Thank You for Your Service" and now "Only the Brave"? There's a pretty solid ensemble here overall, with Jeff Bridges, Taylor Kitsch (taking it back to a supporting role, which is good) and James Badge Dale all giving performances that really stand out. The film does a great job at concentrating on the characters when it's dealing with their job or family life, and it leads to them becoming a family. The script, by Ken Nolan and Eric Warren Singer, balances it out perfectly. Director Joseph Kosinski is known for directing both "Tron: Legacy" and "Oblivion". While both films are visually gorgeous examples of the sci-fi genre, they're also both dull when it comes down to the story, although they are stilll watchable. Because of that, I wasn't sure what to expect in seeing him handle a movie like this on a smaller scale. After watching it, I can say this: this is the best film he's done in his career. The scenes in the forest when the team is trying to brush off the fire looked absolutely convincing, with the CGI and practical effects, if they were used. After finally seeing this, I may consider that he's the right choice to helm "Top Gun 2". The story gives you some insight into how these men do their job in trying to prevent the fire from progressing out of control with smart tactics. I never knew that much about how these firefighters do their job, especially not in this degree of danger. For a while, you think the film will concentrate too much on the team trying to get certified, but it does have some moments of the guys just hanging around. This story is still relevant because there are still forest fires spreading out across the country, especially in California. The film does fall into some clichés, in my opinion, primarily with Teller's character. In addition, some of the elements are kind of predictable and some of the characters could've been developed a little bit more. And the third act kind of stretches out too much trying to reach the emotional climax. These are the movies that connect with me because of how remarkable they make these heroes who save lives and towns. "Only the Brave" captures everything you can possibly feel by the time it's finished, ending on a teary note and truly providing something emotional. Not going to lie, I cried at the end, and was truly trying to hold back the tears. From my point-of-view, the best way to describe this is as a combination of "Backdraft" and "Deepwater Horizon" because of how effective it turned out to be. In the end, "Only the Brave" is an exceptional bio-drama, while paying a touching tribute to the real-life heroes. With a story that's worth telling, "Only the Brave" is powerful when it needs to and it's something to be remembered well after it's over. Genuinely, this is one of the biggest surprises of the year, and definitely worth checking out.
"Only the Brave" deeply builds upon a great ensemble and a respectable story that's dedicated to the heroes of the Granite Mountain Hotshots.
Grade:
B
Print