---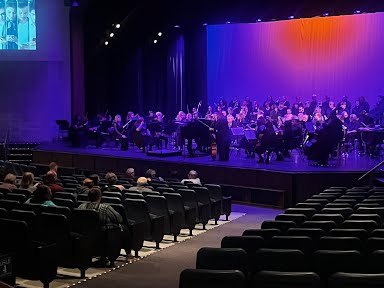 MISHAWAKA- On Oct. 21, at 7:30 p.m., Bethel University's Music Department hosted a concert in the Everest-Rohrer Auditorium as part of its fall concert series. The concert featured Bethel's concert choir, chamber orchestra and choral union.
For this concert, the groups worked together to perform "Elijah, Op. 70," composed by Felix Mendelssohn and originally published in 1846. The piece is divided into six parts and follows the story of the prophet Elijah over the course of 23 songs. The telling of the story was aided through some on-screen narrative and scripture passages.
The choir and orchestra were conducted by Professor of Music Vicky Warkentien, D.M.M., with a portion conducted by a guest director, Dallin Baldwin, who is a part of the choir.
The soloists who performed for the event are members of the Choral Union: Emily McAndrew, Bethany Miller, Emanuel Caraman and Jim Bennett.
The songs ranged from melancholy to upbeat, adding a variety and unpredictability to what was being heard by the audience. Warkentein displayed confidence and experience as a conductor, leading her team to a well-done performance.
The music choice displayed the variety of voices and abilities within the group, highlighting the four adults from the choral union in distinct parts. Bennett's role as the prophet Elijah was powerful and moving, empowered by his strong voice and stage presence. The expertise exhibited by the soloists demonstrated both talent and hard work, being executed to near perfection.
Print