---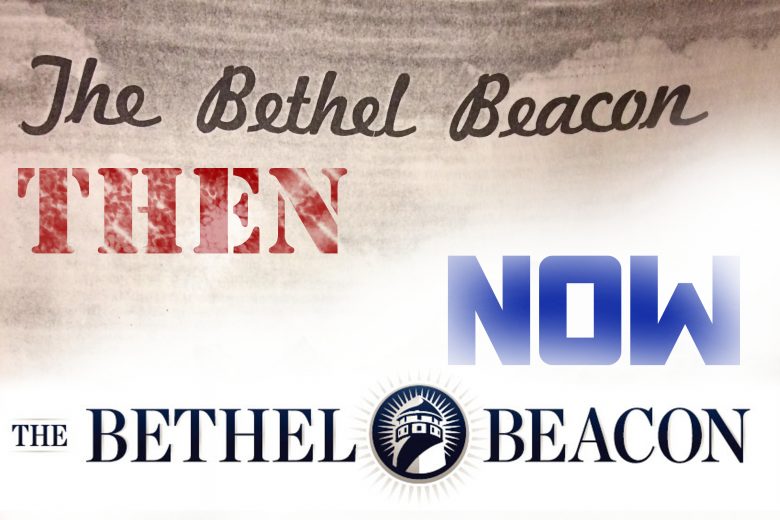 Every once in a while, it's good to take a look back at your roots, seeing from where you've come in order to better appreciate where you're going. The Bethel Beacon staff has cracked open the archives and picked the brains of a few campus fixtures to get a perspective on the Bethel of yesteryear and how it compares to the campus today.
Born from the Evangelical Christian Missionary Church in 1947, teetering during the Red Scare of the Cold War, pushing through the hippie era, rising again in the '90s and flourishing through today, Bethel College has not been immune to trends and trials that occur outside the campus boundary. Through the years we've had recognized names and faces on campus , such as Professor of History Dennis Engbrecht and Vice President of Student Development Shawn Holtgren. Some, like Holtgren, along with Assistant Professor of Music Jeshua Franklin and General Manager of Sufficient Grounds Denise Amstutz, originally attended Bethel as students and then later came back to work here.
Open discussions
Bethel's always had its conversations, quirky and otherwise. While now those conversations are usually held via social media outlets, there used to be a very different M.O. when it came to campus discussions.
"We used to have this thing called the Wittenburg Door," said Franklin.
Located just outside the Dining Commons, the Wittenburg Door, named after the door of the church on which Martin Luther posted the 95 Theses that sparked the Reformation, was a public bulletin board of sorts where students could post written comments about any issues they wanted. Some of these issues included alcohol, spaghetti straps and sometimes deeper topics. Franklin recalled a discussion that went on for a while about the theology of the song, 'How Deep the Father's Love for Us.' The conversation was about whether it was actually accurate theology. "There's that line about the Father turning His face away, and so, did God really forsake Jesus on the cross? That was a whole back and forth thing."
Organized athletics
One conversation that took place early in Bethel's history is a bit surprising to modern students: the discussion of whether or not the school should include an athletics program. Bethel's founders, members of the Mennonite Brothers in Christ, saw themselves as part of the Wesleyan Holiness movement, which caused complications around the idea of an athletic program. "One of the founding fathers of Bethel, Huffman, actually wrote a significant piece arguing that athletics were incompatible with the Wesleyan Holiness movement, and particularly with Holiness colleges," said Bro. Tim Erdel, professor of religion and philosophy. "…And so, it was quite a struggle to even get athletics here at Bethel. Athletics didn't come to Bethel till 1959, and it actually did split the faculty. Erdel continued, "Some of the objections were almost immediately proved true, that athletics would begin to drive the interests of the student body, rather than academics or holiness, that there'd be an infusion of non-Christians, just one thing after another. And someday there might even be athletic scholarships given."
One rather amusing consequence of this inclusion of athletics was the fact that a push for athletics naturally led for a push for cheerleaders. In 1959, still holding to the teaching of the Holiness denomination, female cheerleaders could not wear pants, but instead had to wear skirts. Subsequently, a major concern was the possibility of the skirts coming up if the cheerleaders were to twirl. According to Erdel, as well as Engbrecht, the solution posed was for all the cheerleaders to sew lead weights into the hems of their skirts. That solution failed, as the weights caused the skirts to rise completely during twirls.
Before computers
Originally, Bethel didn't have specific freshmen and upperclassmen dorms; only Oakwood and Shupe existed in the beginning. Amstutz wrote in an email to The Beacon that life in the dorm involved everything being "done by hand, no computers then! We felt blessed to pass around a manual type writer to do our term papers."
"Ring by spring"
"Ring by spring" has always been a tradition with seniors here at Bethel who desire to marry their significant other before they graduate and go their separate ways. Some might say that it's an overbearing pressure on students, but fear not, students! Let the pressure be lifted -- there is no rush to get married. In the past, there
was
a rush, because women working for a living was generally looked down upon. Modern women have the freedom of working and the freedom to choose to wait to get married.
Spirituality
Just like today, both Vespers and chapel have been the subject of debate. In 1967, the Beacon published an editorial on chapel, and in 1969, an editorial on Vespers. The chapel article questions whether "requiring students to attend chapel will aid them in becoming religious" and states that "people tend to rebel when a belief in direct opposition to theirs is expressed." At the time of this article's writing, chapel was a daily mandatory event, as opposed to our three weekly chapels today. In 1969, when Vespers was initiated, the spirituality of Bethel flowed and helped students reconnect to God. Vespers stirred questions, raised curiosity, and helped innovate students because it wasn't mandatory—it was wanted.
Chapel itself has gone through some changes, even since 2001, when Franklin was a student. Franklin said that chapel is somewhat different than his days at Bethel. "The speakers that come in who kind of give a sermon, so to speak, I feel like that was most of our chapels back in the day, and now I feel like there's a greater diversity," said Franklin. Franklin cited the various panels and musicians that come to Bethel as adding variety to the chapel rotation, breaking up what students expect from chapel.
Dark years: war and a changing world
As much as we talk about "The Bethel Bubble," Bethel's not immune from national issues. The Red Scare affected everyone in the '60s, including Bethel. Whether or not Communist leaders were infiltrating the campus was a terrifying thought, and the Beacon reflects some attitudes on campus. The Missionary Church has a history of pacifism, and some of its founders even took part in a bid to Congress to make conscientious objection to military service on religious grounds a civil right. This history came into sharp focus in the moral ambiguity of the Vietnam War.
"When (the) Vietnam War was at its height, there were lots of questions," said Erdel. "'Is this even a just war?' And it revived issues, even, 'should we be pacifists?' And that was a contentious thing, and it was contentious on this campus, a little bit. There were people in the administration, such as Wayne Gerber, the longest serving vice president for academic services…who himself was pacifist. So there were lots of sympathies within the school, and there were people protesting the war here on campus." Fast forward to Sept. 11, 2001, and Bethel is again swept up in a national tragedy. Franklin was a worker in the public relations office the morning of the attacks, and remembers hearing the news on the radio and television that were playing in the office. "They called…an all-campus chapel meeting later that morning...and I think they cancelled classes for the rest of the day," said Franklin. "And so people came together in chapel, and Dennis Engbrecht, who was kind of the Shawn Holtgren of the day, was leading things and had people divided up into prayer groups, and so were were kind of huddled together in groups of people, praying about what had happened."
Brighter days
Still, through all the ups and downs, Bethel's still here. After 70 years of national issues, religious and theological debates and unfortunate cheerleading wardrobe malfunctions, the campus has gone through a lot of changes. New buildings and other fixtures now dot the campus, and students from all over the world now diversify our student body. It's good to take a look back at where we've been. We hope this little glance back has been entertaining and informative. Bethel's history is still being made every day, so keep an eye out for what's next on the horizon!
Print