---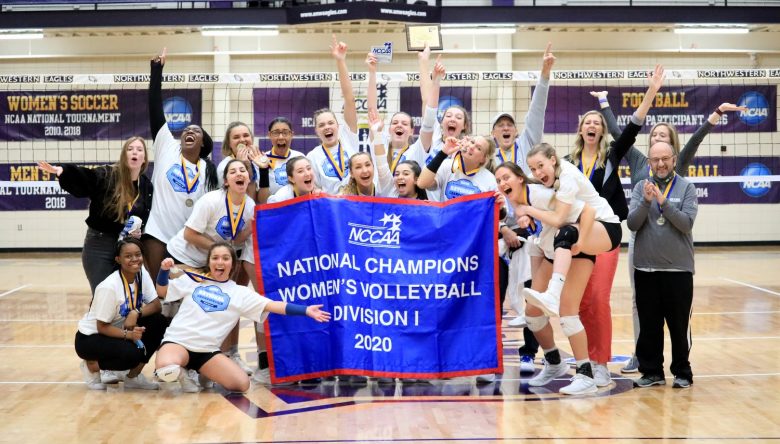 MISHAWAKA—Jump back to 1998. Many of Bethel's current players on the volleyball team were infants, and maybe not even born. That year was the first time Bethel volleyball went to the NAIA tournament. Current Head Coach Katie Weiss played on that tournament team. Fast forward to 2021, and Bethel is now making its second tournament appearance and coming off their 2020 NCCAA National Championship run.
"Receiving the at large bid for the NAIA National Tournament means a lot to me personally," Weiss said. "Bethel University has not been to the NAIA tournament in 22 years, and this is the second time in school history! I was on the last team from Bethel to play in the NAIA tournament and being selected to compete brings nostalgia as well as excitement. To compete as a player and now return as a coach is meaningful. It's coming full circle. I am proud of my team and all that they have accomplished this year. We are making history and it's very exciting."
On April 12, the Pilots were selected to the NAIA National Championship as an at-large team. In a normal season, the Pilots would not have been able to compete in both the NCCAA National Championship and the NAIA Championship, but because of the NAIA moving their fall and winter championships to the spring, the Pilots will compete in both this season.
"Our season has spanned the entire academic year," Weiss said. "That's a long time to stay focused and give your best effort. It's difficult to compete at your highest level without injury for 8 months. We've had to take more time off, have talking and encouragement sessions, and at times eat ice cream. I don't usually approve of dessert, but this year my motto seems to be, 'whatever it takes!'"
The tournament game will come with some unprecedented challenges for this year's team, as they will be losing three seniors due to academic reasons. Abby Armold, Calsey Gruzdov and AJ McDonald will not be playing in the tournament for the Pilots due to graduation.
"Being a young team, especially this semester after losing seniors Abby Armold, Calsey Gruzdov and AJ McDonald, I expect us to play young." Weiss said. "We are learning and growing but we are capable of more than we know. It's time for us to lean into our talent and trust our abilities. If we can do that, we will have an exciting time at nationals."
The Pilots faced off against the Reinhardt Eagles on April 17 in Waleska, Georgia. The Eagles entered tournament play 22-5 and were awarded an automatic bid for winning the Appalachian Athletic Conference. This was the Eagles fourth appearance in an NAIA Tournament. Their tournament appearances have all happened since 2015.
"I think Reinhardt is beatable. They haven't played a top 25 team this year," Weiss said, prior to the game. "We play top 25 teams often. We have strong experiences this year from our time at NCCAA and we know the mindset it takes to win. We have experience playing in a National Championship game already this season and we know how to fight it out until the end. These things will help us in the NAIA Tournament."
The Pilots beat Reinhardt 3-1 (25-19, 25-22, 20-25, and 25-21). With this victory, the Pilots advance to the main site for the NAIA National Tournament held in Sioux Falls, Iowa from April 27 to May 1. For more information on the Bethel volleyball team, visit www.bupilots.com.
Print