---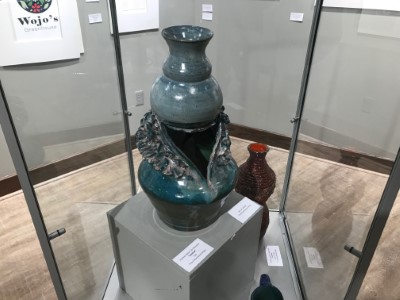 MISHAWAKA—This week, the Bethel Beacon highlights Art Education major Vanessa Steiner, the creative force behind the Senior art showcase "Still Sovereign."
Steiner came into Bethel as an Elementary Education major, but switched to Art Education before the end of her Freshman year after realizing how much she missed taking art in high school. "I had a background of ceramics and I knew that if I applied myself, I could become proficient in drawing and painting," she says about her transition.
As she delves into her work as an artist, Steiner finds her inspiration in church services. "During a message I will get a visual representation of the pastor's message and how I apply that message to my own life," Steiner explains. She implemented this creativity with her senior showcase piece, "Still Sovereign," the title of which finds its origins in the biblical story of Job.
Despite the challenges of pursuing art, especially as Steiner acknowledges, a lack of time, Steiner is filled with passion for her path in life. "I love art simply because I find peace and solace in it," Steiner says. "It is the one thing I do that I lose track of time while doing it."
Those interested in viewing Vanessa's work will find "Still Sovereign," along with other new works by Bethel artists, in the Weaver Art Gallery through March 12th.
Print