---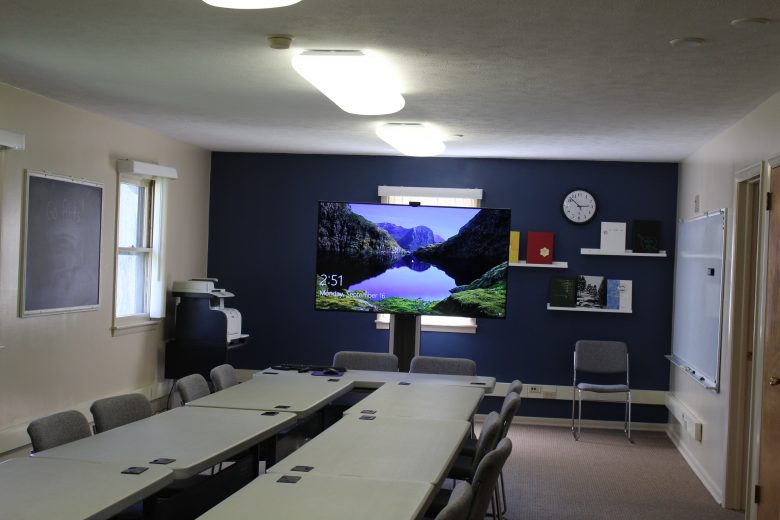 MISHAWAKA—Over the summer, the Student Media Center, located behind the Sufficient Grounds, underwent some renovations. In addition to a classroom, kitchen, podcast studio, film studio, and meeting rooms, the building is also home to the offices of Dr. Theo Williams, assistant professor of Communication, and Dr. Robby Prenkert, associate professor of English & Humanities.
"We accent-painted the walls, added stuff on the walls just to try to make it a little more home-y, you know, a place you can hang out," said Prenkert. "Places to hang your coats, chalkboard paint, decorations—that's the main stuff."
Prenkert and his wife, Bethel alumna Jeanie Prenkert '92, did most of the decorating.
"We probably put in 40-60 hours each working in here to do these kinds of things," said Prenkert.
They also moved a television to the dining room/kitchen area that can connect wirelessly, enabling students to project images from their phone or computer onto the screen.
One of the main renovations is the addition of a wall in the large classroom to section off an office on the main level for Dr. Williams after some minor flooding damaged his basement office last year.
"That thanks has to go to Joe Zappia and the maintenance department," said Prenkert.
Now that the semester is here, the Student Media Center is open and ready to use.
"Anyone can use the media center," said Prenkert. "Anyone's swipe card should work to get into the building between 8:00 and 5:00."
Additionally, students are working at the Student Media Center from 7:00 to 10:00 at night.
"We have workers now that are here in the evening," said Prenkert. "The building should be open so that anyone who wants to come in and use the building, study here, use the computers downstairs, do video editing, or make a podcast or whatever, can use it."
Currently, the workers are students that are laboring on projects or publications that they are a part of. Prenkert hopes that, in the future, the workers will be trained on all the media equipment so that they can assist students who want to use it.
"In the long-term the goal is that each of these persons can, if any person came with a project, a basic media project... all of [the workers] would be trained enough on the software and equipment and stuff that we have that they could help them."
Prenkert also said that the Student Media Center can be a great place to study, and he hopes that students will feel free to stop by anytime to check it out.
Print