---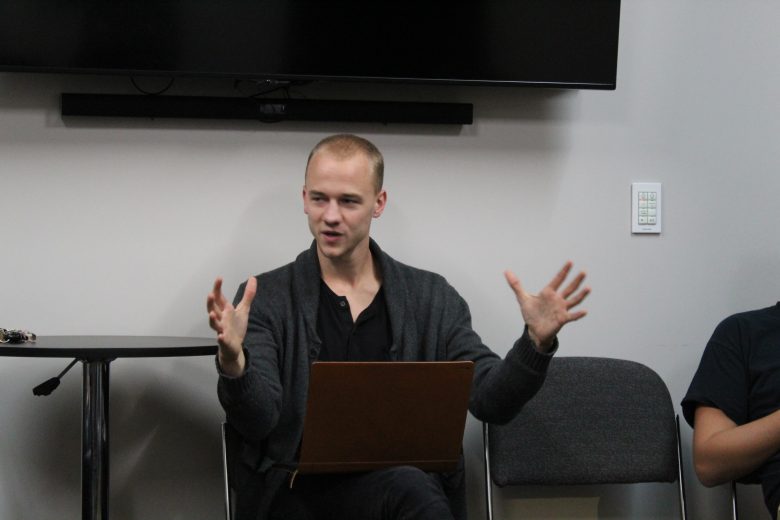 MISHAWAKA—On Wednesday, Oct. 16, Bethel Alumnus Spencer French '19 returned to Bethel's campus to lead students in a poetry reading. A total of 11 students and two professors attended the event.
French selected nine poems for the event: "Batter My Heart, Three Person'd God," from the Holy Sonnets by John Donne; "The Weather in Space," by Tracy K. Smith; six haikus by the seventeenth century Japanese poet Matsuo Bashō; and "The Bluet," by James Schuyler.
French is currently pursuing a three-year Master of Divinity degree at Yale Divinity School in New Haven, Connecticut.
French has found that his studies deepen his Christian faith.
"I had these questions inside me and this passion for learning that couldn't be satiated with anything besides deeper study," said French. "The more I read, the more I studied various topics, not just theology, the more I fell in love with Jesus."
Despite French's love for study, the road to grad school was a difficult one.
"Graduate school applications are just, they're just purgatory," said French. "I spent a full year... working on different applications. I sent in four."
French emphasized that, while every part of a graduate school application should be the best it can be, the personal statement is the most important.
"Every graduate program has this," said French. "It's like you saying, 'this is who I am, this is why I want to study these things, and this is why I would fit at your school,' and that is the most important thing by far, that is the thing that gets you in or out of grad school."
French said that his top three tips for students currently applying to graduate schools would be to have mentors in the process, to thoroughly research the schools they're considering and visit them if possible, and to remember to place their identity in something besides their work.
"There are people on Bethel's campus who aren't Christians, so it doesn't have to be Jesus," said French. "But if your identity is in anything you do, this process will be eviscerating."
French also strongly urged students to make sure that they are not alone in the process.
"Have a community around you," said French. "You cannot do it without community; I promise you, it will be impossible."
French closed by encouraging students not to feel intimidated by graduate school.
"I know many people at Bethel, I know, right now, ten or fifteen people off the top of my head, who could go to Yale Divinity School, and could flourish," said French. "The application process for graduate school is often more grueling than the school itself in certain kinds of ways. So, if you're a hard worker, if you enjoy and are energized by the things you're studying, do not let a name intimidate you."
French will graduate from Yale in 2022.
Print