---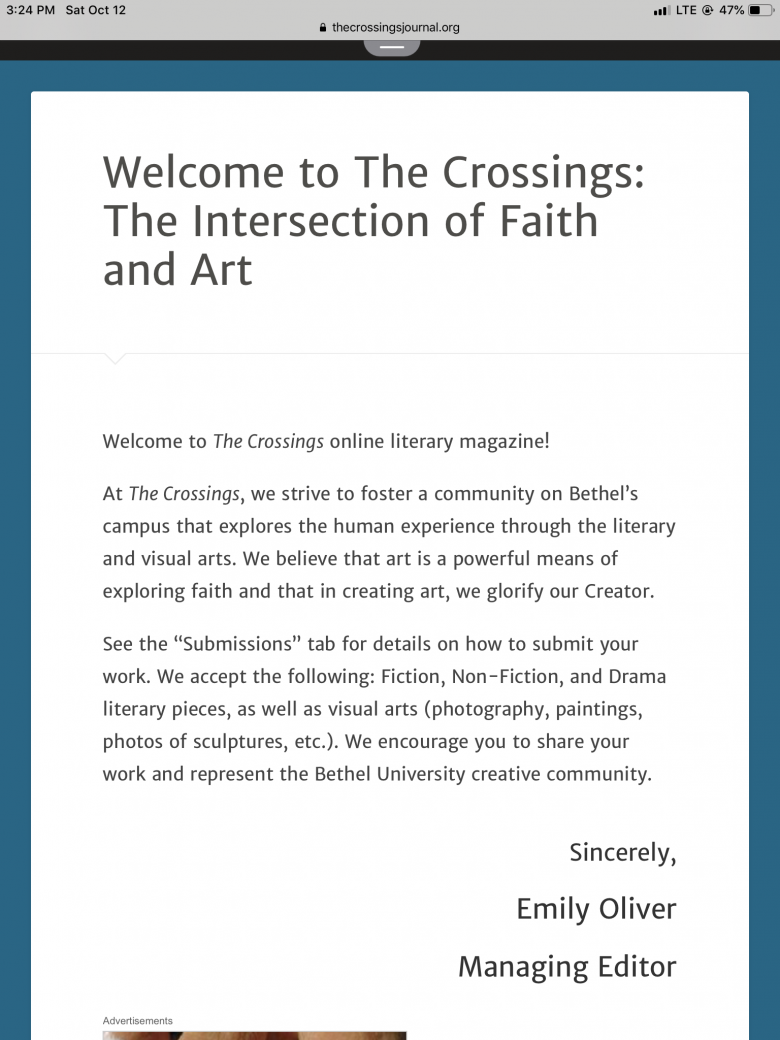 MISHAWAKA—What is one of the most important aspects that students can gain from going to college? Is it experience? The Crossings offers just that for any students interested in getting their writing published.
Emily Oliver said, "The Crossings is a literary magazine, and we publish visual and literary arts. We have categories for drama, fiction, non-fiction, poetry, and recently we added book reviews as well. There are many projects we have going on, but we are mainly focused on publishing creative writing and art pieces by Bethel students."
Anyone is welcome to submit their writing to The Crossings. They must send the creative writing piece through email to crossings@betheluniversity.edu . The Crossings also does a prompt of the week where they post a writing prompt and students are given one week to write a short piece about that prompt. The pieces are submitted to be published and a winner for the week is chosen and entered to win a $30 gift card for Barnes and Noble at the end of the semester.
All the published pieces are accessible on The Crossings website, along with the weekly prompts, and information about The Crossings. There is a total of eight people on their staff right now, most of which are students. The professor who overlooks The Crossings is Jen Ochstein.
The Crossings is a platform for students to get the experience of getting their works published and is a great thing to be able to put on a resume. It is easier for one to get published if they have even a little experience with it, as that is what many publishers look for. Along with experience, The Crossings provides an excellent creative space for students who just need to express or tap into their creative side.
Print