---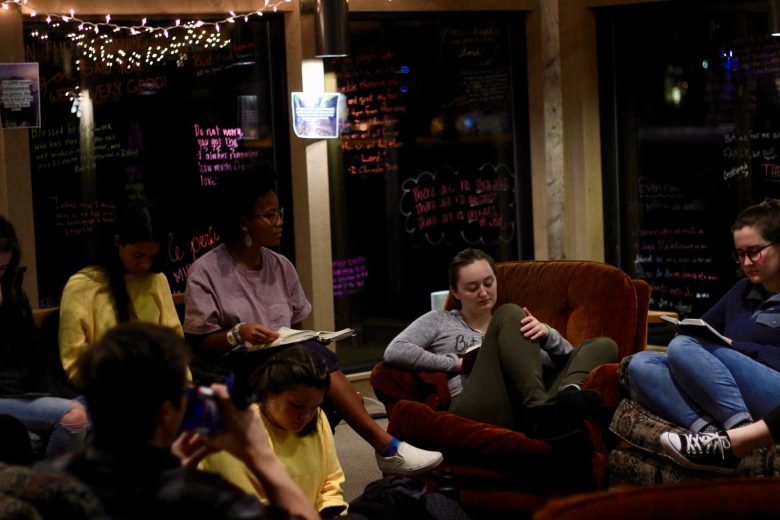 MISHAWAKA—With cozy lights and comfortable couches, the Shiloh Prayer Chapel looked different this weekend, but not just because of the décor. Students took turns sitting in the chapel while reading the Scriptures, praying, and worshipping God without ceasing.
Scripture 66 is an annual event hosted by the Spiritual Life Team and is held in Shiloh over the weekend, beginning on Friday and going until Monday morning. It is a time for students to come and reflect on God's word, and soak-in a spirit-filled atmosphere. The week preceding the event, students have the option to sign up for a time slot to read the Scriptures out loud beginning from Genesis and ending in Revelation. However, any students wanting to simply sit and listen or pray were welcome to do so at any time throughout the weekend.
The reading continued through the night as the students came and went. Refreshments such as coffee, water, and snacks were provided by the Spiritual Life Team for any student participating in the event.
Shiloh is the perfect place for an event such as Scripture 66, but it was chosen for a reason—as students are reading through the Bible if they come upon any verse, thought, or prayer that really means something to them, they have the option to write it on the window using a colored white-board marker. To see students' encouraging, vulnerable and challenging thoughts displayed in an array of colors across the window, reflects the beauty of the time spent in worship and closeness to God. As the weekend progresses and comes to an end, the windows fill up more and more creating a stained-glass window effect.
Though students may be exhausted from staying up late reading the Bible, many come away spiritually refreshed and are thankful for the time they set aside to rest in God's presence.
Print