---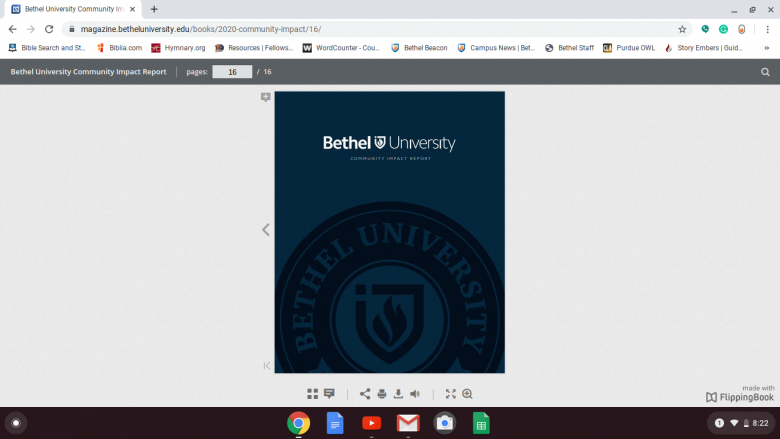 MISHAWAKA, IN – As a Christian university, Bethel has impacted the local community and the lives of its students for more than 70 years. But just how far does that impact reach?
Matt Lentsch, Bethel University's Vice President for Institutional Advancement has the answer. The Community Impact Report is newly implemented by the university this year; although the university has been making both a local and a global impact for years, the report serves to tell others about Bethel's impact.
"[It] effectively tell[s] the story of the impact we make on our community, student lives, alumni lives and ultimately on the world," Lentsch said.  
Bethel has a huge impact on Indiana's economy, with nearly 70% of its students and alumni in the Indiana workforce. According to Independent Colleges of Indiana (ICI), Bethel directly purchases 36.8 million in goods and services from Indiana businesses yearly, resulting in over 700 jobs and roughly $72 million of the Indiana economy.
Bethel also recently implemented the Field Scholars Program, which offers a low to no-debt option for students who wish to work 20-hours a week during the school semester and 40-hours a week in the summer. This program has impacted students who wish to attend college but may not otherwise be able to afford the cost. Bethel's annual Service Day impacts nearly 50 organizations in the local community. Due to Bethel's impact, Bethel students are in high demand in the Indiana workforce.
"[Bethel] students are being called to the mission field, and for many, the mission field is in our neighborhoods," Lentsch said.
Bethel's excellent community reputation has opened doors such as using the new aquatics center in Elkhart for the swim team. As for the future plans of the university, Lentsch says that the campus needs to continue to come together for service.
"We need to be healthy and whole as an institution to continually meet our mission…. Christ at the Helm," Lentsch said. 
You can read the report for yourself at https://magazine.betheluniversity.edu/books/2020-community-impact/
Print