---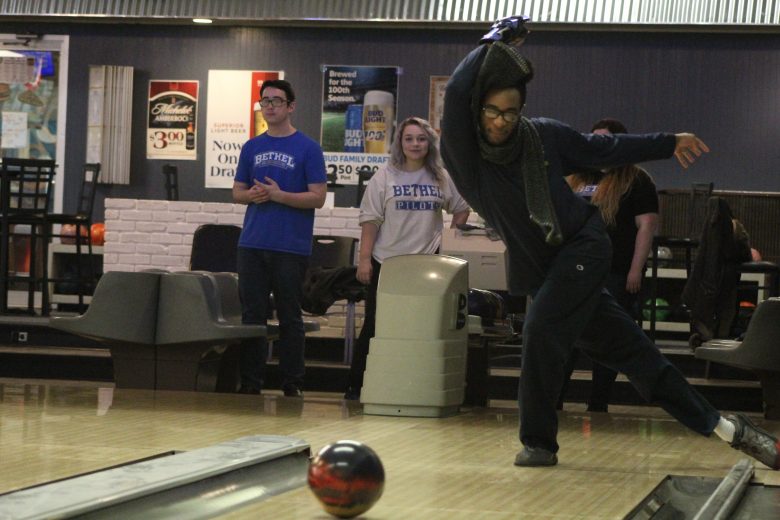 Freshman Ameer Lawrence became a rising star in the Bethel men's bowling team's inaugural season. He won his first individual tournament at the Siena Heights University Halo Invitational on Sept. 28.
Lawrence bowled four years competitively for Bishop Noll Institute in Hammond, IN. He scored a perfect 300 score in multiple high school games.
Below is a lightly edited transcript of a recent interview with Lawrence.
Q: What have you learned from this season?
A: Some takeaways…I would say is just college bowling in general – learning how to be a little bit more competitive and the skill that's out there, not just on our team and in our conference, but just around the country. It definitely shows how prepared I need to be and how much stronger I need to be. I think that's what I was looking for coming into college bowling.
Q: Could you talk a little bit about your high school days, and how it has compared to now?
A: High school is much easier. I think I've had a good start since my freshman year (of high school) because I was told I was just so much farther ahead in high school bowling and I actually like high school bowling. The people I met were some great people. But high school and college (bowling) are very different, especially on a skill level because in high school, you get people sometimes who are just starting out…and college (bowling) has more experienced people.
Q: Were there any aspects of college bowling that you had to adjust to?
A: Definitely lane play. I like to stay pretty tight with my angles and up the lane a little bit more. In college, I've had to almost loft the gutter. I've had to do that maybe once or twice in tournament…and I've really had to just mentally stay in it because we have 10 to 12-hour tournament days most of the time. The mental aspect, making adjustments and then, getting out of my comfort zone is the most challenging aspect of college bowling, besides patterns and competition.
Q: Tell me about the oil patterns on bowling lanes. Did the ratio of the oil pattern differ from tournament to tournament in high school bowling like they do in college bowling?
A: Up to my junior year of high school, I think our sectionals patterns were like 4:1 or 5:1 in ratio. It was much…easier and freer. I think my senior year, the pattern was like 2.2:1, so it was a lot harder. In college bowling, patterns can be anywhere from 3.1:1 to 1.7:1 and it's so much harder. Typography, length, how much (the balls) eat up an oil pattern and dry the lanes up all play a factor into college bowling as well.
Q: Are there any fierce competitors or rivals that you have played against yet, or are you just feeling the competition right now?
A: I think my only enemy for the most part is the lanes. If I do want to have an enemy, everyone is my enemy in the tournament. I don't really have one specific person. For me, I don't worry about other people. I get very mechanical…so I worry about myself.
Q: If you could describe the culture of Bethel's team, how would you describe it?
A: Diverse – in skill, talent, attitude and mental game.
Q: Are there ways in which you and your teammates try to help each other out?
A: Oh, yeah. All the time. In team format games, each individual score makes up the team's score, so we're still trying to help each other out. We'll tell each other what the moves are and how to adjust. In baker format games, it gets much more crucial because each individual only gets two shots a game…it helps to have a talkative team. I am not a talkative bowler, but if a teammate asks for my help, I'm more than willing to help them.
Q: What's been your favorite moment from this season?
A: My very first college tournament. I was a nervous wreck and…there were so many thoughts going through my head. Even though I didn't win that tournament – I came in second – I still think that's my favorite moment. Once I got past the first (tournament), I thought, "I think I can compete with these guys. I'm not losing my touch."
Q: What are some things you hope to improve upon as the season goes on?
A: Accuracy and being less mechanical. I have struggled with these things for the past three years.
Q: Why do you love bowling?
A: I've been doing this for fifteen years and if I don't love it, then I need to be finding something else to do with my time. It's just something I've always done…my family's done. We love going to [bowling] tournaments and we love traveling. I travel at least three times a year for bowling.
Q: Could you also talk a little bit about growing up? You said your whole family follows bowling pretty closely.
A: Pretty much…yeah. I think the only (family members) who don't bowl is my mom. My grandma used to bowl; my dad used to bowl…my grandpa never really bowled. Competitively, my aunt bowled. The first time I was at a bowling alley I was six months old or something like that. I guess I was crying a lot and when they got me to the bowling alley, faced me to the lanes and sat me there, you didn't hear another word out of me the entire night. That was a trigger for my family to be like, "Okay, this kid loves bowling." By the time I was two or three, I started throwing a bowling ball. When I was five or six, I started competing.
Print