---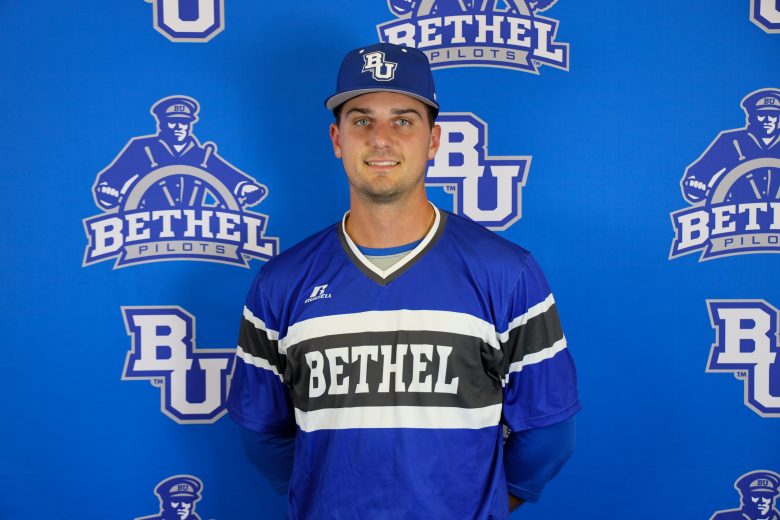 When senior Kory Goodrich entered Bethel University in the fall of 2016, he did not know if he belonged on the team. The support from his teammates kept him grounded.
"I would say the support I've gotten from my teammates has been the biggest thing," Goodrich said. "The confidence and then just…going out there and being able to do it."
Growing up in Huntington, IN, Goodrich learned the game of baseball from watching it on T.V. with his dad. As he started playing on the field, he fully realized his love for playing baseball.
During a high school summer league, Goodrich developed a relationship with Assistant Coach Cameron Branock. Branock convinced him to look into the Bethel baseball program.
"He had a lot of good things to say about the school and the program," Goodrich said. "We had a good relationship and I trusted him in that. I came here and I wouldn't change it for the world."
One of his teammates and fellow pitcher, senior Justin Rasmussen said Goodrich taught him a lot about the game. In the starting pitcher rotation, Goodrich typically pitches the first game, while Rasmussen pitches the second.
In weekend series against one team, Goodrich gets to know the opponent's batting lineup first. Then, Goodrich gives Rasmussen pointers on how to attack certain batters he will face.
Rasmussen recalled his favorite memory of Goodrich in a Spring Arbor University game last spring. In an April 23 game, Goodrich pitched a complete game win over SAU, 5-1. According to the Bethel athletics website, he threw 153 pitches and struck out seven batters.
"We all knew his pitch count was getting up there," Rasmussen said. "It was like, 'Holy cow, he is not coming out of this game.' He just knew, 'No, this is mine. I'm not giving up.'"
Goodrich described himself as someone who wears his emotions on his sleeve. In moments of success, he is not afraid to showcase his joy.
But Goodrich said he gets emotional when he makes mistakes as well. In his first loss this season to Midway University, he gave up eight earned runs in just over three innings. One mistake snowballed into several other mistakes made by Goodrich and his teammates.
"This last weekend I had a really bad outing," Goodrich said. "But as long as I can give our team a chance to win, I think that's the biggest thing."
Despite the loss to Midway, Goodrich holds a 5-1 record on the mound this season so far. Going into the Central Florida Invitational this weekend, Bethel holds a 13-4 season record.
Goodrich attributed the team's success to a more experienced and confident roster.
"I think it can't be overlooked that we have a lot of upperclassmen," Goodrich said. "We have a group that's been around each other for a while and…I know no matter what I do, whether it's right or wrong, I've got 25 guys that have my back and I know they feel the same."
Throughout the emotional rollercoaster of the season, Rasmussen said Goodrich encourages his teammates. When Rasmussen is having a bad game, Goodrich reminds him to keep his head up.
"I would say we've both worked our butts off since getting here in order to help our team win," Rasmussen said. "That kind of thing sticks with you."
Print