---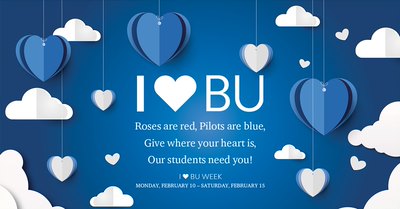 MISHAWAKA—There are many ways people celebrate Valentine's Day; for couples there are chocolate boxes, roses and meaningful gifts—for single people there is discounted candy (the day after Valentine's Day) and sitting on a couch watching movies about the love life they think they will never experience. There are friend celebrations, family celebrations and so many others; this year, Bethel has "I Heart BU Week."
"[I Heart BU Week] is an opportunity to remind people of why they love their school and help support us along the way," Director of Alumni and Donor Relations Emily Sherwood said.
It is a full week that is a celebration as well as an opportunity to show appreciation. "I Heart BU Week" is Feb. 10-15. Every day has a different focus on some part of Bethel that people love: Monday is professors, Tuesday is mentors, Wednesday is campus, Thursday is friends and Friday is spouses/valentines. Each day there will be gifts and giveaways to anyone who decides to donate.
Saturday wraps up the event and everyone is encouraged to attend the women's and men's basketball games. The first three hundred fans will receive a free "I Heart BU" t-shirt and sticker. After the games on Saturday, there will be a VIP event in the gym for all the people who donated throughout the week.
Students are encouraged to get involved by showing their appreciation of Bethel on social media.
"Help us spread the love during #IHeartBU week by engaging with us on social media, sharing your stories and pics, coming to the game, and even consider giving back to an area on campus that you love or in honor of someone who has impacted you," Sherwood said. "Help our alumni remember why we love Bethel so much!"
Print