---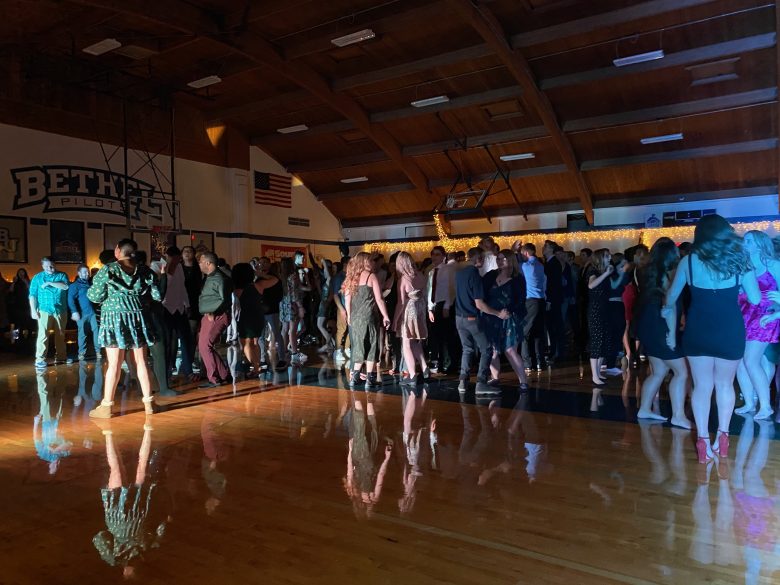 The Bethel University Student Council hosted the first school sponsored dance on Jan. 17. While the council expected between 50 and 200 attendees, over 500 people showed up to the event.
"We had ordered food for about 180 people and we ran quickly out of drinks since we had far more people than we had expected," Paul Cooke, student council president, said. "That was another surprise for me."
The Snowball dance took place inside Goodman Gym at Wiekamp Hall. It ran from 7 p.m. to 10 p.m.
Junior Zachary Miller acted as the dance's DJ and played a wide range of songs. Joshua Searsy, a Junior Criminal Justice major, said he expected more gospel music. He said he felt surprised the dance played a wide range of songs, including slow dance songs.
"When I first went in, I had a couple of preconceived notions that it might be a product of the Bethel Bubble as it were," Searsy said. "But when we got in there, I thought they really listened to students and gave us almost exactly the kind of dance we wanted."
The council planned to reserve chairs and tables from Bethel, but all of the tables and chairs were unavailable. Bethel used the tables and chairs for the ReFuel Conference, taking place the same weekend.
Kristy Bridegroom, Head of Conference Services and Events at Bethel, helped the council get three eight-foot tables for food. For seating, the council pulled out two rows of bleachers and brought in a couple couches.
Cooke said most people chose to stand on the dance floor and talk anyway. A picture taken after 8 p.m. captured 460 people on the dance floor.
"There is some significance in the amount of people who came out," Cooke said. "And the kind of direction that it provides for campus activities and the campus in general…for future campus events.
Despite hours of setting up, the clean-up operation took only an hour and a half. Many people contributed to the tearing down of the event, including council members.
But the dance did not come without hidden expenses. The company that provided the lighting and sound equipment charged additional fees for equipment transportation.
The original budget of $1500 increased to approximately $3000. Cooke said the council received $1000 from an anonymous donor to cover some costs. The council's discretionary budget covered the remaining cost.
The council is currently fundraising to cover the funds they used from the discretionary budget.
"We're working on seeing if we can get a donor for…somewhere between $600 to $1500 dollars to fill in the gaps," Cooke said.
Print