---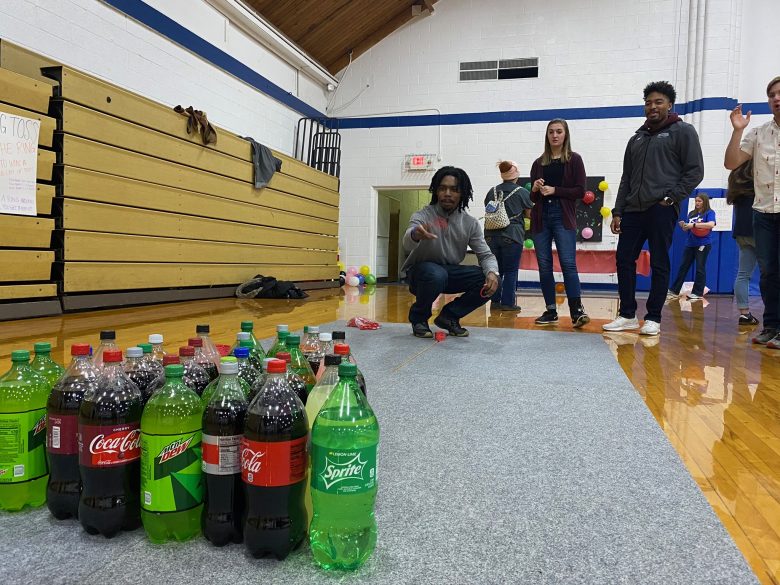 MISHAWAKA—On Friday, Feb. 21, the upper-class committee organized a carnival for Bethel students in the Goodman Gymnasium from 7-10 p.m. The carnival included fish-pong, balloon darts, a can toss, ring-a-pop and plenty of food and merriment; according to Shelby Moody, president of the upperclassmen student council, approximately 125 students attended the event.
Pie-throwing was one of the evening's featured activities; for $1, students could purchase a pie to throw at a Bethel faculty or staff member. A total of six individuals volunteered to be pied: Dr. Amber Beamer-Rohde, assistant professor of psychology, Dr. Kent Eby, associate professor of missions, Dr. Dave Schmidt, associate professor of history, Dr. Theo Williams, assistant professor of communication, Dr. Keith Koteskey, assistant professor of Christian ministries; and Nat Montiel, resident director of Oakwood. Dr. Eby was the evening's most-pied participant.
All proceeds from the pie-throwing were donated to Hope Ministries; in all, the game raised $101. Additionally, the upper-class committee donated the leftover food and drinks to Hope Ministries.
See our photo gallery of the event here: instagram.com/bethelbeacon 
Print