---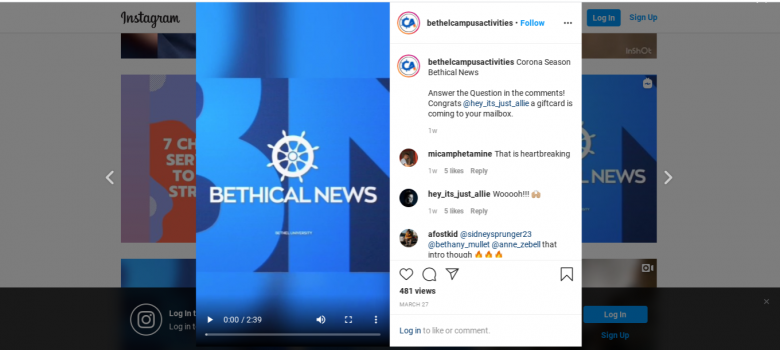 MISHAWAKA- Campus Activities continues to build community through online platforms to keep students on and off campus engaged.
Anna Letens, Student Engagement Coordinator, main job is to keep students engaged, and campus Activities happens to fall under that umbrella.
With the unexpected closing of Bethel University mid-March, the campus activities team was left without a backup plan, and left Letens looking for ways to connect with students.
"I knew I needed to find innovated ways to engage students whether they are on or off campus," she said.
Letens knew she was not able to pull off the project by herself, and as students left campus, she pulled people in such as Nat Montiel, residential director of Oakwood-Slater Hall, Johnny Bennett, residential director of Manges Hall, and Josh Kuehn, admissions counselor, to help out. Letens also holds weekly video chats with her student team to gather additional ideas.
"We need diversity and ideas, so that's why we have the team to give feedback and have a say in what we plan," Letens said.
The creative team brings a weekly content calendar to students on both Instagram and Facebook. The team established a weekly pattern filled with Bethical News episodes, encouragements sent in by professors around campus, student polls, Spiritual Life content, and weekly challenges for students on and off campus to participate in.
Engagement has not been just online. With the closing of the school, about 35 international and other students had to stay on campus, and for their safety and were moved to Sailor Hall. Letens and her team made intentional choices to bring engagement to on-campus students, while also being mindful of social distancing.
The Acorn has been turned from a sandwich and soup dining option, to an activities-hangout spot. Letens brought in board games, a DVD player, spike ball, as well as ordered sidewalk chalk for remaining students to have more to do than just homework.
While Campus Activities didn't have an emergency plan, the team has come together in a time of crisis to bring students a virtual community while the school remains closed.
"The creative team is working hard and trying to remind students of what we do have… we are excited to continue to have a community, whether it's virtual or in person, we are glad to still continue this," Letens said.
Print