---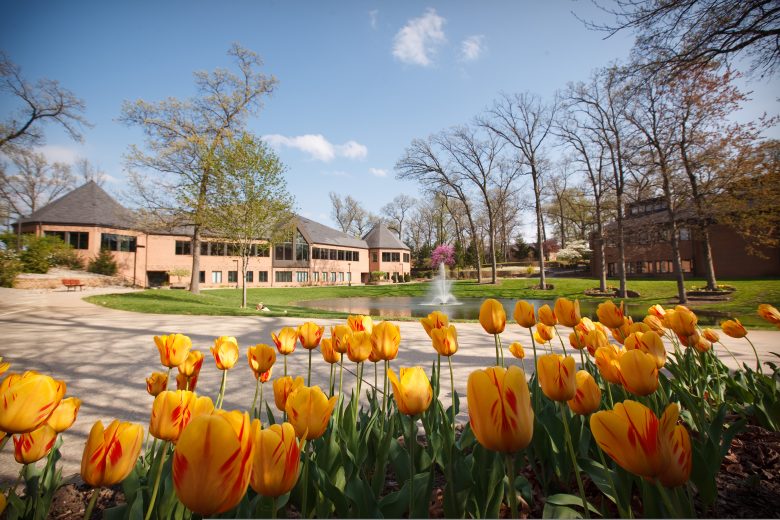 MISHAWAKA – Because of the coronavirus, the new welcome center's dedication has been postponed until summertime. However, there are plenty of reasons to look forward to the commencement ceremony and plenty of details concerning the project.
The new welcome center is going to be roughly twice the size of the original; it previously functioned as the office building for 15 people, but it will soon be able to accommodate 30. The new building is also a more hospitable place, offering refreshments, cookies and even a Microsoft Surface to look at the stories and videos of Bethel graduates.
The funding for the new building, like most campus construction projects, comes from donations, not tuition or other student fees. The $850,000 project is coming from the roughly $8,000,000 Bethel has received in the past few years as investments for infrastructure on campus. Other projects funded by this include the Kelly Auditorium, the School of Nursing addition, the Prayer Garden, and the upcoming Lehman Family Training Center, which is expected to be completed by January of 2021.
The building itself will be named the Van & Jean Gates Welcome Center, in honor of a couple in the community who owns three separate Gates automotive dealerships, one of which is quite close to the campus on McKinely Ave. The two have made notable contributions to volunteer organizations in the community, and their son, William Gates, has been on Bethel's Board of Trustees for almost 20 years. He and his wife, Susan, have contributed to the new Welcome Center in his parents' honor.
The Krake Courtyard outside of the Welcome Center, named after Bethel's first and eighth graduates, Marcus and Virginia Krake, will also be receiving some new additions. Two eight-foot-tall gates are to be built, resting on brick pillars: the Welcome Gate and the Commencement Gate. The former will be aligned with the entrance to the Welcome Center, while the latter will be positioned in the northeast corner of the courtyard, with a sidewalk leading directly to the west entrance to the Goodman gym. This stretch of sidewalk under the gate is going to be part of the Graduation March.
Last, but not least, the new building's conference room will be named for the Dean of the School of Nursing, Dr. Deb Gillum. The donation that funded the room was made in her honor due to her impact on Bethel and the School of Nursing, which during her time has achieved national ranking and been the largest enrollment department.
Though students won't be on campus during the time of the dedication ceremony, they'll be able to see the new building and courtyard in all their splendor when they return to campus this fall.
Print