---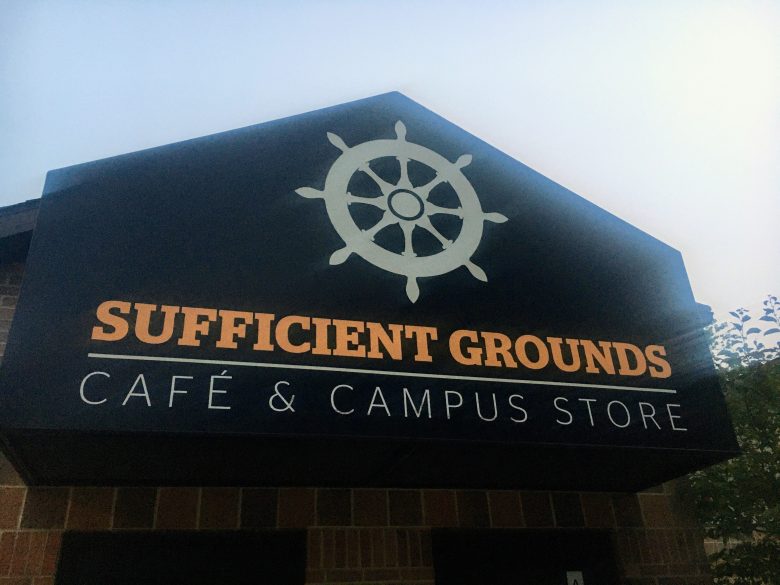 MISHAWAKA—As Bethel prepared to bring students back to campus, one of the areas to receive the highest scrutiny was creating a safe environment for eating. The Dining Commons underwent a series of changes, including added food guards, reduced seating to allow for social distancing, hiring additional workers to serve food to students, packaging silverware in protective sleeves and reworking the swipe system so students could swipe their own cards and limit any contact with the cashier.
According to Jerry White, CFO and vice president for administration and finance, one of the biggest changes was bringing meal swipes to Sufficient Grounds. Students can use a meal swipe Monday through Friday from 11 a.m. to 7 p.m., for the sandwich or salad of the day with two sides and a drink; meals are also available at Sufficient Grounds on Saturdays and Sundays from 5-7 p.m.
"That's probably why we're not seeing capacity issues in the Dining Commons," White said, of the extended hours.
White said while the staff will occasionally remind students to follow mask and social distancing guidelines, they are trusting students to follow the rules and look out for themselves and each other.
"We're counting on students to self-regulate, for a large part," White said. "They'll remind people at times; especially masks, we really want them to wear masks."
One of those policies involves the signs on tables; the signs inform students how many people can sit at each table and students are asked to lay down the signs when they leave the table so it can be disinfected before anyone else uses it. White said this can be easy to forget and he encourages students to help each other out.
"My appreciation goes to students taking this seriously and doing a good job in following the guidelines," White said.
White doesn't enjoy the rules either, but he knows it's important to follow them.
"This is really kind of a bummer to be in this situation, but we really need to keep our social distancing to stay safe and healthy," he said.
For Sherri Hess, food service manager, the focus is on providing a safe environment that feels as familiar as possible.
"Our main goal is to make sure we can still provide great service as we have in the past and try to maintain as much normalcy as we can," Hess said.
She said they are diligently working to follow the Centers for Disease Control guidelines and one of the most important things students can do to help is resist the temptation to move tables and chairs closer together.
"As inconvenient as it can be, we ask people not move the furniture," Hess said. "We're doing everything we can to make sure we don't get shutdown, so we have to follow those CDC guidelines."
They also ask students to wear masks anytime they are not sitting down at the table and eating, even if they're only leaving the table to get a fresh drink.
"Nobody enjoys wearing a mask, but we do it because it's the best option right now," Hess said. "Any changes we've made are solely for the purpose of everybody's health."
Hess encourages students to talk to her or other employees if they have any concerns or requests.
"There are a lot of things we've had to eliminate or change but most of the stuff that you would want or that you've seen in the past is still available," Hess said. "You just have to ask for it."
Hess said they are looking for more student workers at all three locations: the Dining Commons, Sufficient Grounds and the Acorn. If they can hire more workers, the Dining Commons may be able to bring back certain items they've had to eliminate, such as soft serve ice-cream.
Another change is the retirement of Jim Metherd, general manager, after serving Bethel for 13 years; currently Jennifer Moritz is serving as interim general manager.
The Dining Commons is also planning to hold some events in the coming months, such as a karaoke dinner on Sept. 24, a foodie revolution on Sept. 30 where students can vote for certain foods, sweepstakes, trivia events, and a cityscape in October that will feature the cultural foods from a specific city.
Hess said she hopes students will reach out to them if they have any ideas for specific food or events.
"We're always open to suggestions," Hess said. "We want to make this an enjoyable experience for you guys -- we want to hear from you."
For the latest updates, follow Bethel Dining Services on social media.
Facebook: @BethelDining
Instagram: @betheldining
Twitter: @BethelDining
Print