---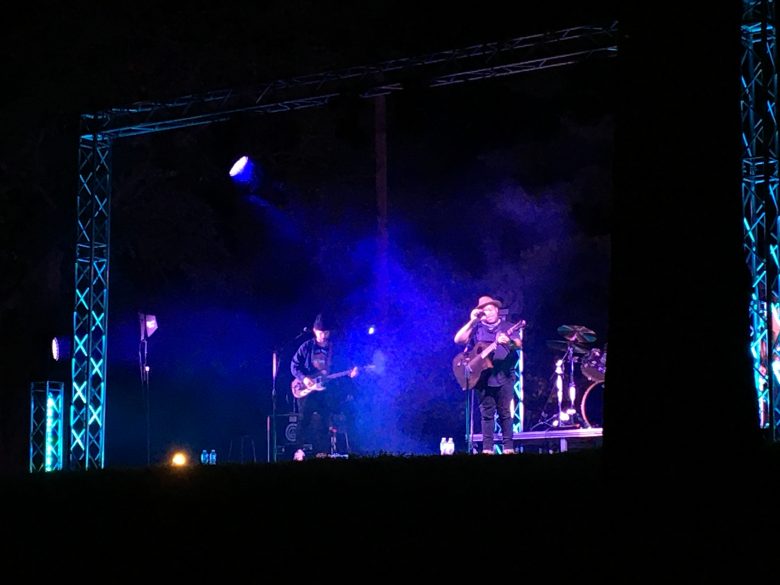 MISHAWAKA--Musician Isaac Pittman was scheduled to join Bethel University for a spring chapel last school year; however, due to COVID-19 and students going home, that chapel was cancelled. Thankfully, Pittman was willing to be flexible on the contract and come in the fall of 2020.
"Many people have asked about a concert," Anna Letens, Student Engagement Coordinator, said. "Outside seemed to be a nice touch and COVID-safe."
The concert took place around the ponds on Friday, Sept. 11, starting at 8 p.m. Campus Activities divided the pond lawn into 9 sections: one for each dorm, one for commuters and one for staff and faculty. At least 100 students attended the event.
"Isaac and his band were some of the most genuine, excited and kind outside groups I've met," Letens said. "We were very blessed to have such a beautiful evening with great weather."
Pittman started writing music and singing when he was a boy and began leading worship at 18. He has lived in Nashville, Tenn. since 2012. The night of the concert was his first time being near Granger, his hometown, since his mother died. In tribute to her, Pittman played an original song in the middle of the performance, completely unplanned. Music continues to be an outlet for him and a gift to minister to others. Students can read more about Pittman on his website, isaacpittman.com.
Letens and Campus Activities were quick to share credit with others who helped make the concert happen.
"Bethel's Audio-Visual department led by Stacy Bone, Bethel's Conference Services Department led by Kristy Bridegroom and the company Circle City [for] sound and lights were all pivotal to making this event one I would love to repeat," Letens said.
Print