---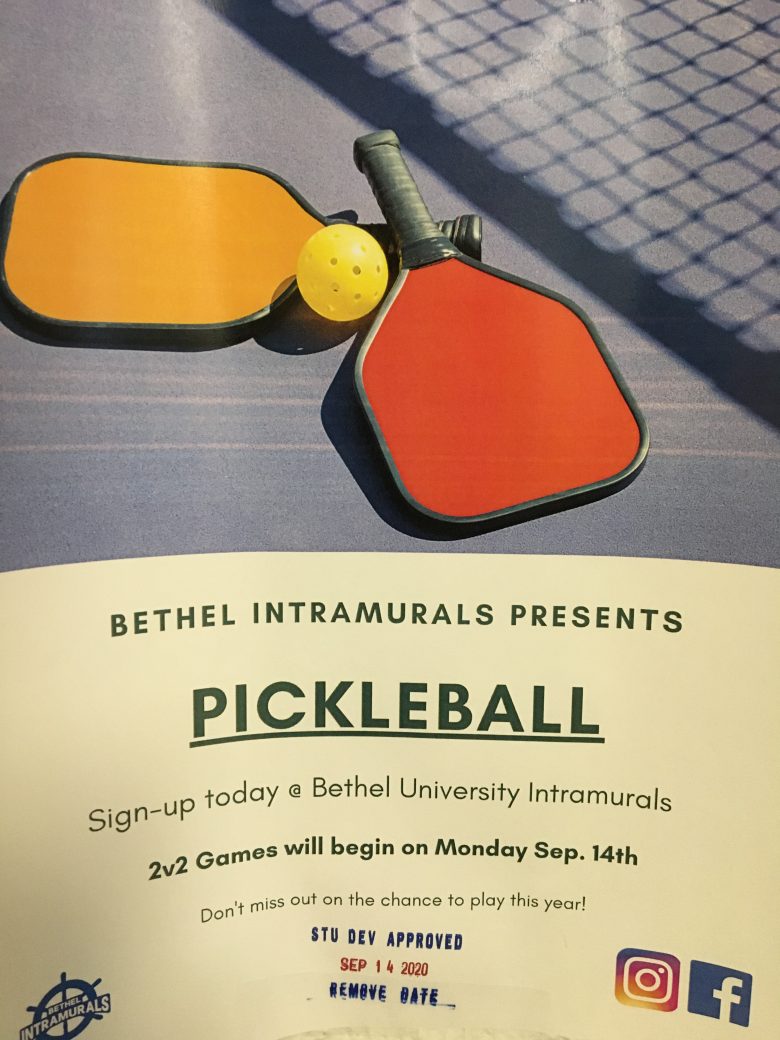 UPDATE: the Pilot Olympics opening ceremony was postponed to Sept. 24 at 7 p.m.
MISHAWAKA--Despite COVID-19, Bethel is proud to announce there will still be intramurals this year.  Pickleball is starting Monday, Sept. 14, at 9 p.m. in Goodman Gym and will run through the end of the semester.  Students can sign up on the Bethel University intramurals Facebook or Instagram page. 
This year, there will be Pilot Olympics; the opening ceremony is Thursday, Sept. 17, at 7 p.m., hosted by Campus Activities. Every Thursday until the end of the semester there will be a different event, the first being kickball. Teams are divided by each dorm and commuters and will compete for first, second and third place. Points are awarded per place and by the end of the semester, whichever team has the most points wins. Students can sign up through their dorm co-captains.
"It was in response to COVID," said Residential Director Johnny Bennett regarding the Olympics. "We looked at our traditional 6v6 volleyball and 3v3 basketball— we realized it's something that wouldn't follow the guidelines for COVID."
Each month, there will be a personal challenge for any student to participate in. September's challenge is "Marathon in a Month"; students track their progress over the course of the month, whether via a smartphone or a smartwatch, and if a student has run the length of a marathon by the end of the month, they win an intramural sticker and are entered into a raffle for larger prizes. There will be similar challenges over the course of October and for November as well.
"We want to provide opportunities for students to have fun and compete with each other while also focusing on their health and their wellbeing," Bennett said. "These events and challenges give students that opportunity."
Print