---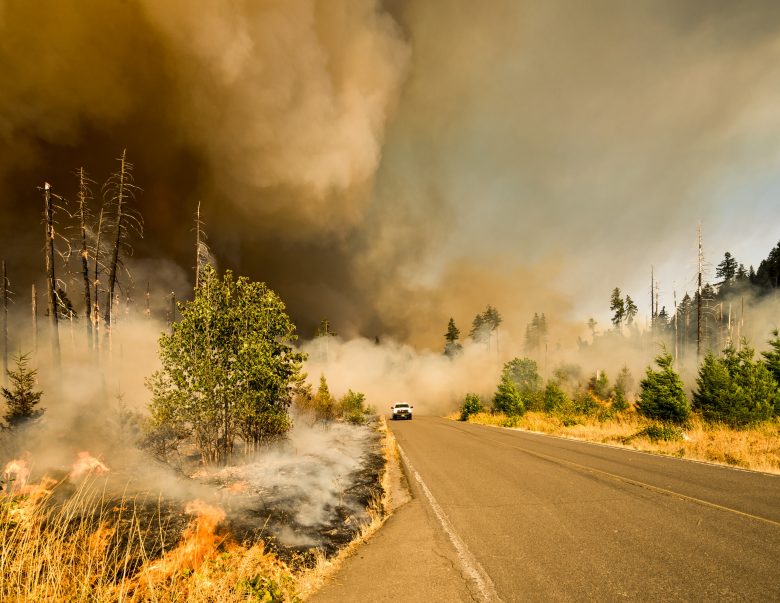 Wildfires are burning across 4.5 million acres in Oregon, Washington and California and destroying more than 700 structures, rekindling a long-time debate: Is climate change real, and if so, how does it play into the current wildfires?
The fires burning the West Coast have been a challenge for firefighters because of shifting winds and the types of fires they are fighting; in addition to brush fires, firefighters are trying to extinguish crown fires. Crown fires burn older trees and the flames easily reach the canopy where embers can be carried by the wind and spread fast. Because of the difficulty containing these fires and the vast amounts of smoke being produced by them, Portland, Seattle and San Francisco are now in the top 5 cities with the worst air quality in the world.
Fires are a natural part of many ecosystems; biologist even call them, "fire-dependent ecosystems." It is a natural and necessary occurrence in these ecosystems for fire to thrive. Fires burn through old trees and brush, and nutrients are released for new plant life to grow. What is not natural, however, are people building houses and structures in ecosystems such as this. Furthermore, fires have been longer and more intense in recent years than in the past.
Many different factors play into this. These three states, especially California, have had hotter temperatures and drought. The hottest years on record in California have been within the last decade, and many blame climate change as a primary factor in the worsening fires.
 Katie Weakland, Ph.D., Bethel's associate professor of biology, points to the science supporting this claim.  
"Climate science clearly points to an increasing trend in CO2 in the atmosphere as well as increasing temperatures," Weakland said. "The evidence is clear that increasing CO2 in the atmosphere and increasing global temperature are a reality."
Rising temperatures are not the only attribution to these longer, intense fires. Pine bark beetle infestations have contributed to creating the perfect environment for these fires to thrive.
"The beetle has devastated over 4 million acres of forest in the western US in recent years," Weakland said. "This leaves standing dead trees. Dead trees dry out, and they dry out quickly in extreme temperatures. With this many standing dead trees, it has been difficult for Forest Service and other state agencies to keep up with forest management such as prescribed burns and clearing debris."
No individual factor can be held completely responsible because they all played a part in creating perfect conditions for difficult fires. These fires have destroyed entire neighborhoods in each of these three states, and currently 24 people are missing in Oregon as firefighters search rubble. The current death count for all three states is 35.
Weakland said students can look for ways to help those struggling because of the fires.
"I would suggest speaking to the Red Cross about relief for those who have lost their homes or perhaps contact a church in areas that have been most affected by the fires," Weakland said. "People on the ground are the best people to talk to about providing aid. Also, don't forget to pray for those who have lost their homes or have lost loved ones to the fires. And pray for rain."
The Red Cross is accepting donations for wildfire relief on their website, redcross.org.
Print