---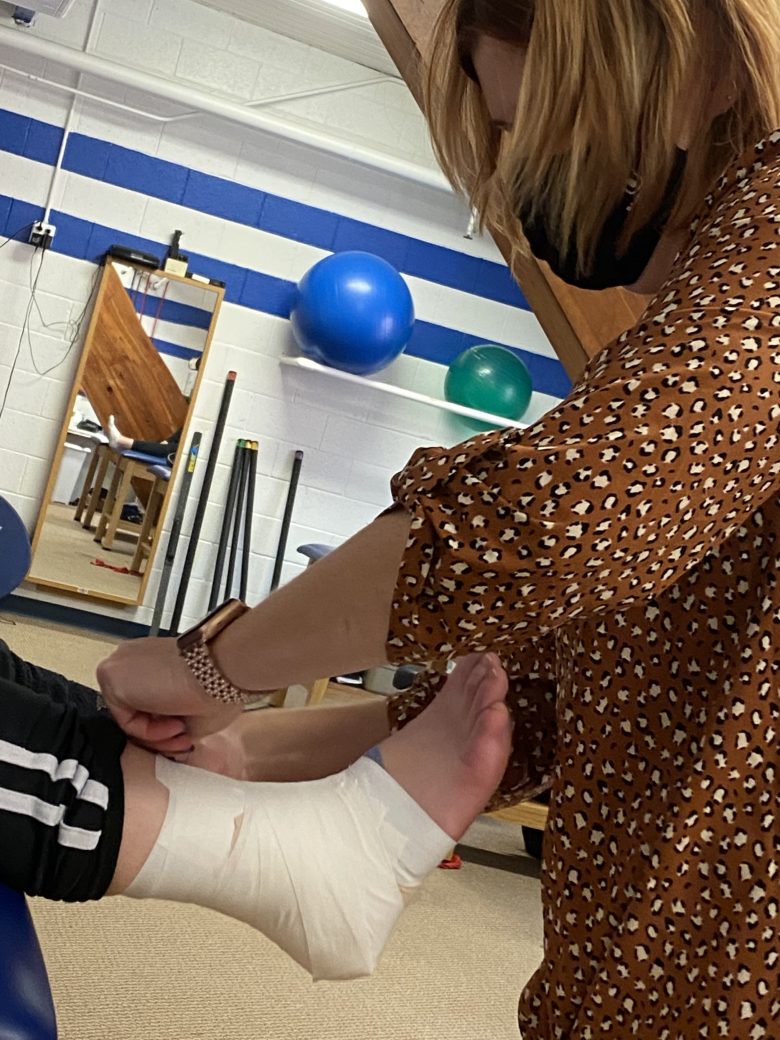 MISHAWAKA – Sarah Hauck, Bethel University head athletic trainer, did not anticipate the amount of time she would be spending on work related to COVID-19.
"It's been more than I knew signing up for saying that I would do this this fall," Hauck said. "It has definitely been more than I prepared myself for."
While her main job is working with Bethel athletes and coaches, the advent of COVID-19 changed her role in dramatic ways. Now, with the fall season coming to a close, Hauck said she knows now that she needs to remain flexible.
Athletic Director Tony Natali also noted the amount of flexibility it takes to manage through a season of sports.
"I've learned you've got to be flexible because probably the biggest challenge has been scheduling," Natali said. "Games getting postponed and then getting rescheduled another time."
But Natali said he has not faced too many scheduling issues on his end. Opponents have more often had to reschedule games and matches with Bethel teams.
Despite the challenges from COVID-19, Natali said he feels at peace with the way the fall season turned out. While entire teams such as the men's cross country had to cease competition and practice for two weeks, most Bethel teams remained eligible to play.
Bethel Volleyball Coach Katie Weiss said one of her athletes had to be quarantined at the beginning of the season. Despite the small setback, Weiss said the experience showed the team how serious the COVID-19 pandemic is.
"I honestly think it was almost a positive thing … that someone got quarantined early only because it helped us all realize, 'Oh, this is serious. This needs to be taken seriously,'" Weiss said. "So, I'm really thankful. I think we've done a really good job of minimizing exposure and being careful."
The biggest adjustments for the volleyball team this season came from their opponents. Weiss said at one point more than three teams from the Crossroads League had to postpone or cancel matches with Bethel due to COVID-19.
Natali said the COVID-19 protocols the athletics department followed for the fall season will remain the same for the winter season. Athletes will still be required to wear masks prior to their scheduled competitions and have temperature checks prior to entering the Wiekamp Athletic Center.
But as of Nov. 6, spectators will no longer be allowed to attend home athletic events at Bethel. According to a Bethel athletic department press release, the spectator policy will be suspended until at least Nov. 15.
The suspension of the spectator policy is due to the rise of COVID-19 cases on Bethel's campus and in St. Joseph County. According to the Bethel University website, Bethel University is currently experiencing the orange level on the risk level key.
Even prior to the temporary suspension in attendance policy, Bethel sporting events had a different atmosphere with less fans. Deborah Thompson, head coach of the Bethel swimming and diving teams, said schools like Bethel are livestreaming the events for parents and fans unable to attend them in person.
"At least the parents can watch that," Thompson said. "It's not the same as being [in person], but at least it's something."
Like fall athletes, winter sport athletes have to quarantine for two weeks if they come into contact with someone with COVID-19. Athletes reportedly have had some difficulty readjusting to the practice regime immediately after they are cleared to practice again.
Swimming and diving athletes face the unique challenge of not being able to swim at all during quarantine. Thompson said she tells her athletes to continue conditioning on their own by running outside or completing small workouts inside.
"It probably takes another couple weeks to get … used to swimming," Thompson said. "What hurts us is when they have to miss the meets … because that totally changes our lineup and relays."
In addition to quarantining and following COVID-19 protocols, the best preventatives for athletes are to eat healthy and rest.
Steve Drabyn, head coach of men's basketball, encouraged students to take care of themselves.
"You just try to eat well, drink a lot of water, lot of fluids," Drabyn said. "You take vitamin C and those kinds of things. That's kind of all you can do."
Print