---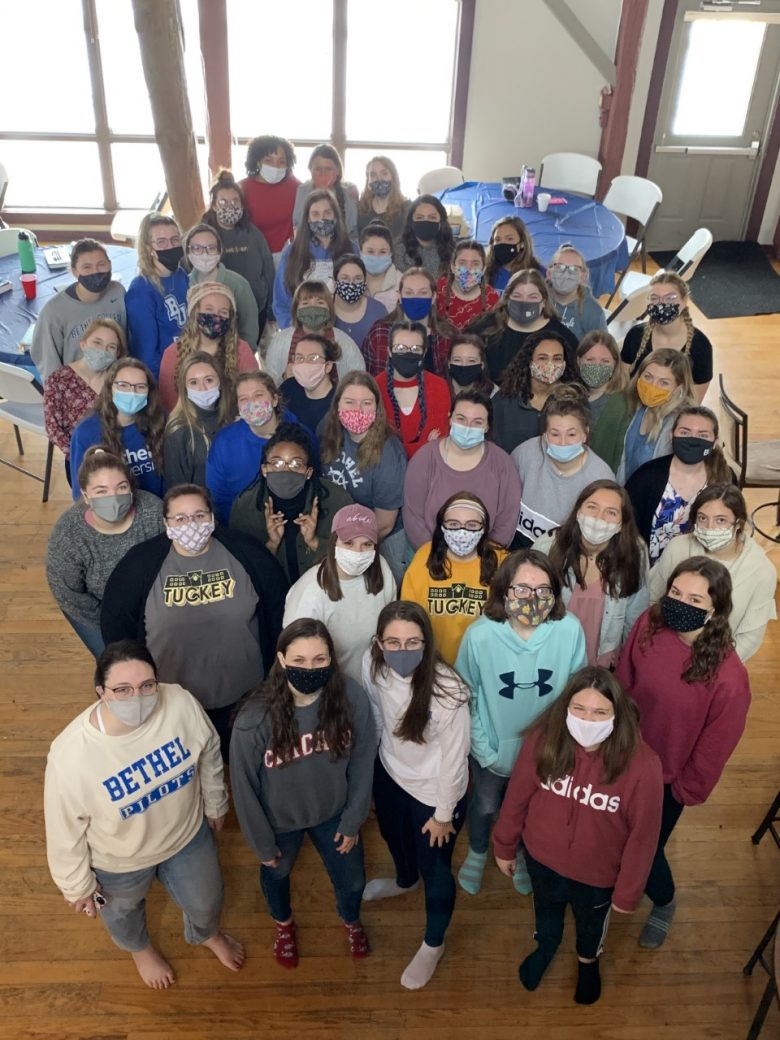 MISHAWAKA—Bethel's annual BABE Week happened Feb. 7 to 14, with Dude Week immediately following Feb. 15 to 20. BABE Week encouraged students to give up some distractions such as social media and focus on connecting with their fellow students. Group activities included several small, dorm-specific events throughout the week, a Zumba night on Thursday and a larger focus on the weekend retreat than previous years.
"The theme of the weekend was 'Rhythms of Renewal,'" Annie Bennett, residential director for Tuckey, said. "We focused on four specific things, which was rest, restore, connect and create."
The retreat took place at The Oaks and about 75 girls participated. Students could choose to spend the night on Friday and Saturday or just come for Saturday. The group made bracelets, played games, took time to connect with each other and participated in other activities.
"The whole point of it was to kind of get away for a little bit, connect with people that you already know but also with those you don't know, and to just have a time of renewal after such a crazy-busy last semester and even just a busy time coming back from Christmas break," Annie Bennett said.
Dude Week kicked off Monday with the Midnight Meatfest, a tradition that was moved from Shiloh to the Acorn this year due to the weather. Johnny Bennett, residential director of Manges, prepared 150 pounds of chicken for the event.
"We almost knocked out all 150 pounds that night," Johnny Bennett said. "There was barely any left over. It was great."
Other events throughout the week were dorm-specific until the Thursday night tournament that pitted the dorms against each other for individual prizes, bragging rights and the official Dude Week flag for the dorm that did the best overall. There was also a weekend retreat on Friday and Saturday. In the past, this retreat has been specifically for Manges residents, but this year the invitation was extended to all Bethel male students.
"The whole idea of Dude Week is predicated on a technology fast," Johnny Bennett said. "Our goal is to get guys to unplug from technology, social media, their phones as much as they can . . . at the retreat, we kind of break the fast together."
Precautions were taken to follow COVID-19 regulations; masks were worn except when students were eating, all the food was individually packaged or served by select volunteers and registration for the weekend retreats was limited to keep the group size appropriate for the size of the space.
The Bennetts both believe BABE Week and Dude Week are important for giving students space to breathe during a rough time of the semester.
"I feel like it's important to just kind of remind students of why it's important to connect with other people and how important community is," Annie Bennett said. "That way when we do get into those times when we're not feeling so great, we have people we can lean on."
Likewise, Johnny Bennett hopes that students use this time to set down their phones, take a step away from the distractions of social media and focus on the people around them.
"Anxiety and stress is at a level that has really never been reached, and I think there are several different layers to that, but I think a huge component is technology," Johnny Bennett said. "Smart phones specifically did away . . . with the lines of when work happens and when you're done. It really blurs a lot of things together and creates a lot of stress, and social media in addition creates a lot of comparison and isolation."
The Bennetts are grateful for the many testimonies of students who felt benefited by the experience and they hope many more students will continue to get involved in future years.
Print