---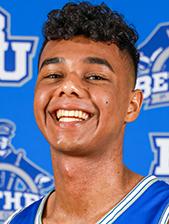 MISHAWAKA—Bethel has hosted several blood drives over the years organized by various teams and individuals, and this school year the blood drives are headed up by Life Granville, a junior majoring in accounting and finance.
Granville, who plays for the men's basketball team, received this responsibility as part of the Red Cross Collegiate Leadership Program, an opportunity his coach encouraged him to try out for during the 2019-2020 school year. The program helps students develop leadership skills and encourage their peers to volunteer with the Red Cross.
"I thought it was a cool opportunity," Granville said. "I applied for the scholarship, and then I ended up interviewing once, twice, and then I got it."
Normally, Granville would have flown to Washington, D.C. to receive training with the 12 other scholarship recipients selected from across the country, but COVID-19 altered these plans.
"We ended up doing a virtual training," Granville said, "on how the blood drives work, why people need blood, different blood types, all that good stuff."
For the blood drives, Granville oversees booking the room, securing the proper equipment, enlisting volunteers and recruiting donors. There have been three blood drives thus far in the semester, and each one has filled the 60-appointment limit. These drives were held in the Everest-Rohr rotunda, but Granville is looking into other location options that would provide enough space to increase the number of appointments they can schedule while maintaining social distancing.
During the Fall 2020 semester, Granville went through an experience that showed him the importance of blood drives.
"I got sick in August, pretty much I was supposed to die, I was pronounced pretty much dead at one point," Granville said. "But it was a miracle, God saved my life, and then I ended up getting the same thing come back in September."
This was Granville's first time being exposed to so many sick individuals at once.
"It was just really eye-opening to see a lot of people that need blood," Granville said. "I had already got the scholarship, I already knew what I had to do, and I saw that what I was going to do would make a difference in people's lives."
Granville expressed thankfulness to everyone who has volunteered with the blood drives and donated blood.
There should be one more blood drive later this semester, though details are still pending. There will be posters around campus to keep students updated.
Print