---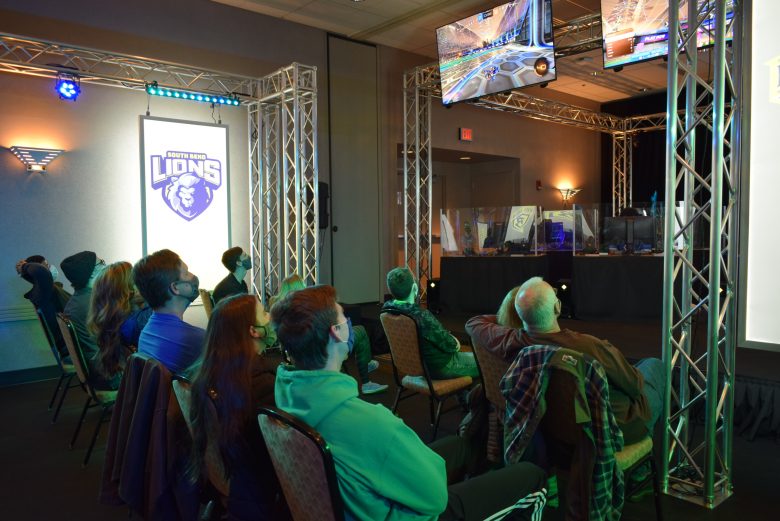 MISHAWAKA—Despite launching the esports program in September, the team completed its inaugural season in the fall without competing in an in-person event. Most of their events are normally held either here on campus, or at their home facility at the Bendix Arena in South Bend. On Saturday, March 13, the team was excited to host Muskingum University at the Bendix Arena.
"The players are really looking forward to it," said Dan Wort, head coach of the esports program. "It's the first time we will compete in person against another team, so it will be exciting. The main adjustment has been to the schedule. Normally our teams play in the morning, but this match will be in the afternoon, so that adds a little bit to how they need to prepare."
The Overwatch, Rocket League and League of Legends teams for Bethel and Muskingum all competed at the Bendix Arena. The Rocket League team, however, had another competition the same morning following the typical virtual format, resulting in a double-header for them that day.
"They will play in the morning against Mount Union from our facility at Bethel," Wort said. "They have had double headers already this season so it's pretty simple. Then they will have plenty of time between matches to go over to Bendix and get ready."
Their match against Mount Union began at 10:30 a.m. and their match at Bendix began at 2 p.m. The biggest thing for this program in their first year is exposure, and with in-person events being implemented into the esports schedule, it can only mean good things for the program.
"It means everything," Wort said. "As [COVID-19] restrictions lessen, we anticipate hosting several collegiate esports events, which will have the additional benefit of promoting our program and Bethel University as a whole."
Rocket League team lost their first match of the day 3-0 verse Mount Union and then won 3-0 verse Muskingum. Overwatch forced a five-game series but ultimately lost 3-2 and League of Legends fell 2-1. For more information on the Bethel esports team visit www.bupilots.com.
Print