---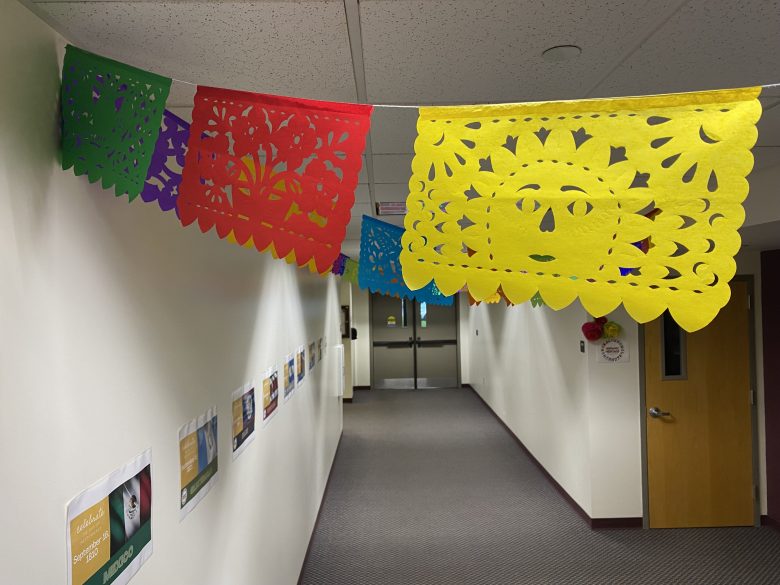 MISHAWAKA–– This year, Bethel put on several events to celebrate National Hispanic Heritage Month (NHHM). NHHM takes place from Sept. 15 through Oct. 15, rather than during a single month of the year, because most independence days of Hispanic countries fall within that time frame.
According to Anna Letens, the student engagement coordinator, Bethel hopes to continue having celebration activities throughout the entire month in future years. This year, the activities primarily took place all in one weekend to designate full focus. With a shorter time to celebrate, it can be done with more quality. However, for the entire month, there are flags and artwork represented in the lower hallway of the academic center near the student life offices.
"Maybe one day we will be able to celebrate it for a full month," Letens said.
Robert Ortiz, resident director and student coordinator for the Diversity, Equity and Inclusion (DE&I) council, said that they did it in a short time period so they could do it well.
Ortiz's first year on staff, there was no celebration for NHHM, so he took initiative in getting it started, as he felt passionately about it.
"Since then, it has become something everybody is focusing on," Ortiz said.
All of this was achieved through the efforts of the DE&I council, through the students on the board and through the cooperation and participation of everyone on campus. Ortiz said that the goal is to make sure everything is represented, celebrated and addressed on campus.
This year, activities for NHHM included a special Friday morning chapel on Oct. 1. Staff from the Miracle Center, located in Chicago, came to do a special performance, highlighting Hispanic culture. That evening there were dancing lessons, followed by live music in the Dining Commons from a swing dancing Chicago-based band. To close the weekend, there was a showing of the musical, "In the Heights" in the Egle Lounge. According to Ortiz, there was a good turnout and participation from students.
The goal of NHHM is to celebrate different cultures and educate students who do not know much about other cultures represented on campus.
"The goal is to highlight some amazing cultures in the world [that] are also represented on our campus," Letens said. "Our population shows those numbers."
Ortiz also said that this is a great chance for students to learn about their peers.
"It's an opportunity for the students to experience a culture of another," Ortiz said. "It gives us a chance and opportunity to explain who we are. It opens up communication for people to ask why."
Print