---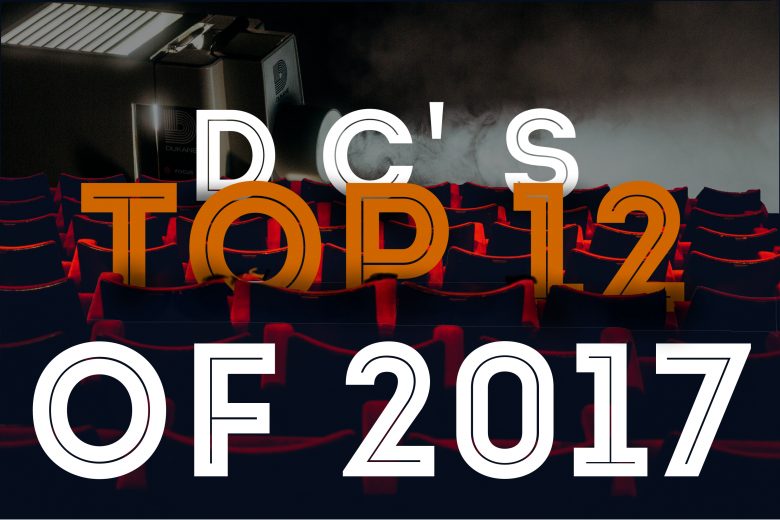 Reminiscing about the best movies of the year is a joyous occasion, just thinking about the ones that stood out the most and won't be forgotten when the year ends. 2017 wasn't exactly the best year in the world, but a bright spot for me is going to the theaters and I'm just amazed that other people enjoyed that too.
Making the "Best Movies of the Year" list is hard. It's tough to decide what movie deserves to be in a particular spot. But unlike previous lists that I created before, I decided to go with a Top 12, mostly because there were a few that I couldn't bring myself to leave out.
This year delivered some great movies from different genres: small indies, comic book movies and comedies (even though this year had a lot of mediocre ones.) During Christmas break, I caught up on a lot of films that I hadn't seen yet, and it was worth waiting to make my list of the best and worst of the year. There were a few flicks I didn't get to check out, like "The Florida Project," "Detroit," "Wind River," "Logan Lucky" or "Phantom Thread" because of time or it wasn't playing near me. Without further ado, here are my Top 12 films of 2017.
12) "I, Tonya"
I knew who Tonya Harding was before walking into the biopic "I, Tonya". But I didn't expect to have a positive reaction to how engaging this turned out to be. "I, Tonya" tries to bring some humanity to this former figure skater in an unconventional way with a black comedy that never lets down. Director Craig Gillespie brought an energetic feeling to this story written by Steven Rogers. All coming together with Oscar-worthy performances from Margot Robbie and Allison Janney.
11) "Wonder"
"Wonder" has to be one of the most touching family films of the year. Like I said in my review, this could've been a cheesy after-school special that won't get to me. But it left a cheerful impression once it ended. This is a satisfying sunrise based solely on taking the message of not judging someone's appearance on the outside, but on the inside. Jacob Tremblay still proves to be a national treasure, making "Wonder" an uplifting flick.
10) "Three Billboards Outside Ebbing, Missouri"
If dark comedies aren't your style, trust me, you won't like Martin McDonagh's "Three Billboards Outside Ebbing, Missouri". From my perspective, this was outstanding, combining funny and serious moments without ruining either aspect. McDonagh's original story tackled the power of freedom of speech and the emotions of grief in an unforgettable way. Beside from the brilliant, unpredictable screenplay, Frances McDormand and Sam Rockwell gave two of the best performances of the year. And the fact that is getting ridiculous backlash makes fans love it more.
9) "The Disaster Artist"
The fact that "The Disaster Artist" kept me grinning the entire time makes it worth a spot on here. This isn't just about the making of "The Room," one of the worst movies of all-time, it's also about one guy's passion to be somebody in the entertainment world. James Franco's uncanny performance as Tommy Wiseau is great without becoming a parody. Working alongside with his brother Dave, they're played off each other well. It's both hilarious and heartfelt at the same time.
8) "Baby Driver"
"Baby Driver" is full of energy all coming off of director Edgar Wright's style of direction that is, without a doubt, killer. From the slick action sequences, a fantastic soundtrack collecting some great hits, and Ansel Elgort's performance as Baby, this was the summer hit nobody can hate. Even though it's my least favorite of Wright's filmography, you still can't go wrong when it comes to Mr. Wright. My killer track from the movie: "Knights of Cydonia" by Muse.
7) "Lady Bird"
Greta Gerwig's directorial debut "Lady Bird" makes her one of the best actors-turned-directors in recent memory. This is the type of coming-of-age film that gets better as time passes. Saoirse Ronan gives my favorite performance of the entire year as the most relatable character ever written. She felt real and honest, just like Gerwig's script. Though the story follows our main heroine through high school, it also finds time to focus on the mother/daughter relationship, and that's really touching. "Lady Bird" is near perfection for anybody.
6) "The Big Sick"
I wasn't exactly sure if I was going to enjoy this or not, but after it ended, I knew "The Big Sick" was the funniest comedy of the year. With the help of Kumail Nanjiani and Emily V. Gordon's script, that's loosely based on their relationship, "The Big Sick" is a romantic comedy that's sweet and hilarious, but it explores the cultural differences between families in a mature, yet sweet way. Its fantastic script and performances from everybody involved, including Nanjiani, Zoe Kazan, Ray Romano and Holly Hunter, can't be ignored. Honestly, this was a huge surprise that has so much heart.
5) "Logan"
2017 has been the year for quality comic book movies, and "Logan" is one of the reasons why. James Mangold's second take on the X-Men character is a brutal and dark superhero movie that doesn't hold back with its R-rating. The sci-fi western vibe is different, but in a great fashion. This gives us Hugh Jackman's greatest performance as Logan/Wolverine, and a career-best for Sir Patrick Stewart as Charles Xavier. The relationship between Logan and Professor X or between Logan and X-23 (a phenomenal performance by Dafnee Keen) was handled gracefully. If you didn't cry at the end of "Logan," you aren't human, my friend. Absolutely the perfect send off to one of my favorite superheroes of all-time.
4) "Call Me by Your Name"
Is it possible to be emotionally attached to a drama? It could be. With all the hype surrounding this, I could've been easily underwhelmed. But Luca Guadagino's "Call Me by Your Name" was a romantic drama that just connected with me till the very last frame. This could've been a very straightforward gay romance, but it's more than that. It's like cinematic poetry come to life. When it comes to love, the only thing that matters is who you choose to love. Set in Northern Italy in the 1980s, this relationship between Elio and Oliver felt real, over time. It's pure and beautifully deep in its storytelling, all handled masterfully with Guadagino's direction, and concentrates on powerhouse performances from Timothée Chalament and Armie Hammer. Honestly, it's better than "Moonlight."
3) "Star Wars: The Last Jedi"
As a "Star Wars" fan, "The Last Jedi" is a great continuation of this new trilogy. Does it have problems? (i.e. the Finn and Rose storyline?) Yes, but it's not enough to downgrade the quality of the film overall. Rian Johnson took the saga in a new direction, and it's amazing. Mark Hamill gives my favorite portrayal of Luke Skywalker, the action is stellar and it gives me hope that "Episode IX" will be a spectacular closer. Surprisingly enough, this turned out to be one of the most divisive movies that came out. Fans either love or hate it. It certainly isn't one of my favorites, but it's not even close to being considered the worst.
2) "Wonder Woman"
It felt like a breath of fresh air to say that a DC comics movie is great a full six years after "The Dark Knight Rises." This past summer's biggest hit was the DCEU's saving grace (at that point.) "Wonder Woman" is one of the best comic book movies ever made, and it's a great female-led superhero movie. Director Patty Jenkins should receive all the credit for finally bringing a great heroine to the big screen with no problems. Gal Gadot became the heroic icon, showing the qualities that make the titular character a real hero. The action is breathtaking, the score is incredible, and it changed the game for the genre to give the chance for more female superheroes films to come by. Personally, it's my favorite comic book movie of 2017.
1) "Dunkirk"
Anytime Christopher Nolan puts out a movie, there's a nine in ten chances it will be in my list of favorites. (Except "Interstellar," though I loved it.) "Dunkirk" is a World War II movie that never lost my attention from the first frame. Anybody who says this didn't have a story or dares say it's boring don't know what cinema is. Sure, there isn't any character development, but it's all about getting these 330,000 men out of peril. The dialogue is minimal, which wasn't a problem, but it's an experience that will keep your heart pounding. Tension-filled throughout, with suspenseful action set pieces, "Dunkirk" just proves once again that Nolan can tackle any genre, and with his abilities to direct a war film, it has to be regarded as one of the most ambitious in the wawr genre in a long time. Everything, the direction, Hans Zimmer's score, the cinematography and the sound design, was phenomenal. Now, can we finally nominate Nolan for Best Director, please?
Honorable Mentions:
"Spider-Man: Homecoming", "War for the Planet of the Apes", "Gerard's Game", "Brigsby Bear", "It", "The Shape of Water", "Score: A Film Music Documentary", "Thor: Ragnarok", "Guardians of the Galaxy Vol. 2", "Coco", "The Lego Batman Movie", "Girls' Trip"
Print