---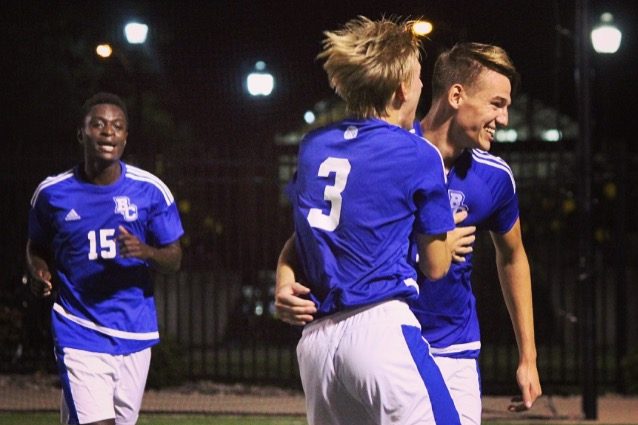 This week, we highlight starting center mid-fielder and team captain of the soccer team Samuel Biek. Biek hails from a little town in Germany called Bad Endbach, which is an hour north of Frankfort. Biek has been an offensive force since he signed with the team a couple of years ago. He led the Pilots in goals (7), points (17), shots (57) and shots on goal (30) this season. He scored the only two goals in the Pilots' NCCAA National Tournament Pool Play overtime win against Southern Wesleyan.
Following the season, Biek received national recognition for his outstanding season. He made the NCCAA All-Region team, Crossroads League All-Conference, NCCAA Scholar Athlete, earned a spot on the NCCAA All-Tournament team and was declared second-team All-American.
Despite the praise, Biek has remained, as he puts it, "humble," on the soccer field. He knows his life stretches beyond the game of soccer and he remembers the God who gave him the opportunity to play. In his interview, he described how soccer is the most played sport in the world and how he can use the platform as a collegiate soccer player to share the Gospel with people all over the world who love to play soccer.
Q: How has Coach Thiago Pinto helped your game, if at all? A: I would say he kind of explained to me what it means to be a leader and a servant leader. To this, I think I've grown to be a more mature player and overall, a better player. I have changed my mindset. I'm going through every practice, every drill (and) every game with a different mentality than I was before because I know what it means to be a leader. I know what it means to give one hundred percent and to truly put everything into work. Q: Who has been your toughest competition this season? A: Personally…I struggle sometimes because I set really high goals and I'm refocusing that to have high goals for the team. Sometimes you make mistakes because you're human. You don't always accomplish everything you want to accomplish. I would say I myself am my biggest opponent. Q: Where are you most comfortable on the soccer field? A: As a central mid-fielder because I can direct and control the game. (My responsibility is) to direct my players and just be a leader. Q: When did you first start playing soccer? A: Since I could walk. In Germany, everybody plays. It's funny. I have two brothers and my dad was my first coach. He always taught us skills and everything in the backyard. We had a really big backyard with goals and everything. All the kids from my whole neighborhood and my town would come to play on our field. My mom provided us with water and we just played and had some drinks. My backyard was always the spot to go. Q: Why have you stuck with soccer after all of these years? A: Obviously because I love it, but the more I play the more I realize that everybody can play the game. It doesn't matter where you are from, how old you are (or) how tall you are. In basketball, most people have to be really tall to play. In soccer, you can be the best player in the world, but also one of the smallest players out there. I also enjoy when I play with people on say a mission's trip or in my hometown in Germany, we have many refugees from Afghanistan, Pakistan (and) a few others I left out. In this ministry, we try to play soccer once a week (or) twice a week, and it's an opportunity for them to stay connected to us because most of them are the same as we are. On the field, everybody is the same. Q: What are some of your soccer philosophies? A: My one philosophy is to be the best version of yourself. If you try to be the best version of yourself and you try to enjoy the game, you're not going to be angry on the field. Have fun, because it's an incredible opportunity for you to be out there and something you have to be thankful for. Also, you try not to be a douchebag out there. You try to…encourage your teammates and (be someone) who's a fair player. Who do you want to be known (as)? Do you want to be known as somebody who doesn't want to pass the ball and is selfish? Or do you want to be somebody who's a selfless individual and wants to be a good player to help the team out? Biek and the men's soccer team will look to bounce back next fall after being knocked out of the NCCAA tournament pool play early. Be on the lookout for more highlights of some of the best athletes on Bethel's campus! (Photo Credit: Bethel College Athletics)
Print