---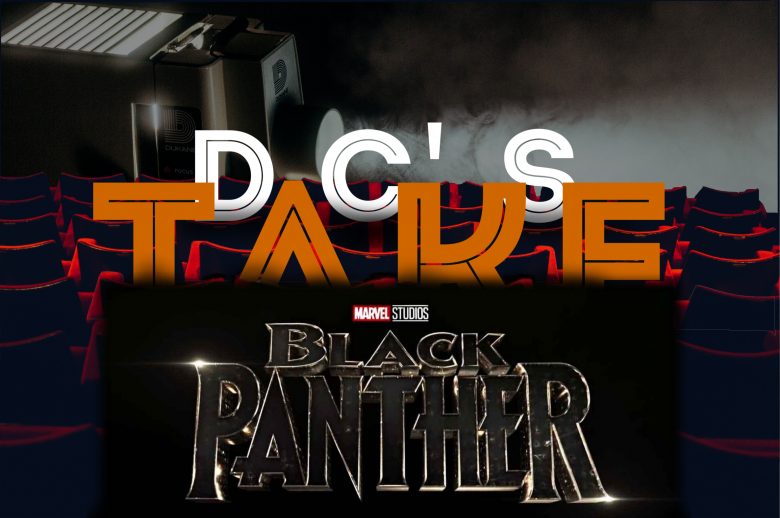 Just like last year, 2018 is going to be a huge year for comic book movies. And when you think about it, it's shocking that we never had a comic book focusing on Stan Lee and Jack Kirby's creation Black Panther. If "Black Panther" doesn't get people excited, I don't know what will.
There's no denying that Black Panther's introduction in "Captain America: Civil War" was one of the best aspects of the entire film (along with Spider-Man), and it meant that we could be getting a sweet standalone movie a couple years later. "Black Panther" was my third most anticipated movie of 2018, not only because it's from Marvel, not only because of the great ensemble, but also because of writer/ director Ryan Coogler. At 31, he became one of the most talented African- American directors working in Hollywood, and anytime his name is attached to any project, I'm so there. His last two films, "Fruitvale Station" and "Creed," were some of my favorite movies of 2013 and 2015, respectively. And while it's not quite in my top 3 MCU films, there's no doubt that "Black Panther" was still amazing through and through.
Although this is a superhero movie, with all the standards of the genre, Coogler does go for a unique take on the hero itself. Some moments started to feel like the first Thor in terms of storytelling. The screenplay that Coogler and Joe Robert Cole wrote took the time to show character development through the world of the Wakanda culture, a nation filled with high tech that the world doesn't know about. Though I'm don't know much about the lore from the comics, by the looks of it, the film's pretty accurate. The world building of Wakanda is astounding. You can clearly tell that it's Coogler behind the camera doing a profoundly great job with helming this. It reminded me of "The Lion King," but set in the MCU. Coogler's direction is beautiful, capturing some action set pieces with stunning cinematography shot by recent Oscar-nominee Rachel Morrison ("Mudbound"). Chadwick Boseman is perfect as T'Challa/ Black Panther. We've seen that he was on the path of revenge in "Captain America: Civil War" for the death of his father. Now, he must become the leader of his country, but also has to wear his Vibranium costume to fight. T'Challa also struggles with his legacy. Boseman crushes his role, cementing him as one of my favorite comic book characters. He totally encapsulates me. When I heard Michael B. Jordan was going to be playing the main villain, I was over the moon. Jordan is one of my favorite actors, and when he's working with Coogler, such as with his previous two films, nothing can go wrong. And with his performance as Erik Stevens/ Killmonger, he turned out to be one of the best MCU villains since Loki or The Vulture from "Spider-Man: Homecoming". Unlike some of the weaker villains in this universe, Killmonger has an understandable motivation and rage, and you actually believe it with this kind of conflict. Also, this is a perfect mulligan after "Fantastic Four." We all want to forget anybody was in that mess. The action sequences and fight senses were very slick and exciting, playing like a James Bond film set in a comic book world, especially the sequence in a casino that heavily suggested "Skyfall," I'll admit, the first sequence was a little hard to see, but it was still cool. The film's diverse ensemble is perhaps my favorite in any of the Marvel films by far, because it's mostly African-American. Besides Boseman and Jordan, there's Lupita Nyong'o as Nakia, "The Walking Dead"'s Danai Gurira as Okoye, "Get Out"'s Daniel Kaluuya as W'Kabi, Letitia Wright as Shuri, Winston Duke as M'Baku, Angela Bassett as Queen Ramonda and Forest Whitaker as Zuri. Andy Serkis returns as Ulysses Klaue, last seen in "Avengers: Age of Ultron," and he has a great time in his role as the other villain in the first half. You can never go wrong with Serkis and a robotic hand. Martin Freeman's Everett K. Ross also makes a return in the MCU, and I was surprised by how much his character got to do this time around. Wright and Gurira, in particular, were the scene stealers in basically every scene they're in. Gurira's Okoye serves as T'Challa's bodyguard and leader of the Dora Milaje, and fights like a true warrior. Wright's Shuri, T' Challa's smart little sister, is my favorite new character in the MCU, brightening any moment she's onscreen. And she's basically the Q to T'Challa's James Bond, working with all the tech. Petition for a spin-off for Shuri, please? Everybody is talking about her. Still, there were a few flaws I personally had with the film. Though I love Jordan's Killmonger, he had a sweet introduction…and then he's gone for almost 50 minutes. I really missed his presence. In addition, some of the CGI was a little noticeable, and there were a couple scenes that started to drag. We've all seen African-American superheroes on the big screen before, such as in the "Blade" trilogy, and Wesley Snipes' plan to do a "Black Panther" film in the early '90s. But it hasn't shown this much achievement in a long time, releasing a fantastic movie with a black superhero as the lead, lending the film a unique viewpoint. "Black Panther" has a lot going for it, especially during these difficult times right now. "Black Panther" might be on the same line with "Wonder Woman" with making an impact in the comic book genre (hopefully with no backlash later on). With Black Panther already slated to appear in "Avengers: Infinity War" in a few months, who can't be excited? This just goes to show that Coogler is three for three as a director, and I can already predict that his next film will be another hit. "Wakanda Forever" indeed. The way "Black Panther" was constructed was near perfect. It's a perfect standalone film; you don't need to re-watch any of the other films in the MCU to enjoy it. As the first huge blockbuster of the year, "Black Panther" is a film that many people will be talking about for months to come.
Ryan Coogler's take on an MCU film lends "Black Panther" a cool and stylish vibe, with killer action sequences, a sweet ensemble and one of the coolest heroes captured on screen. Grade: B+
Print