---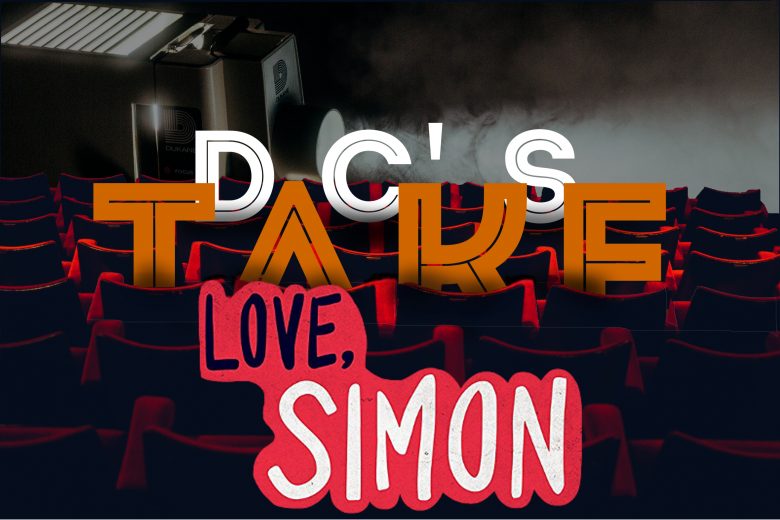 If you take a look back at the films in the coming-of-age genre, there haven't been a lot representing the gay community, let alone a wide release that isn't offensive in some way, shape or form. We just had one of my favorite movies of last year, "Call Me by Your Name" and nobody even saw that. Now, we have "Love, Simon," a wide release that's perfect for fans of the John Hughes classics from the 80's. And if Hughes were still alive today, I think he would be proud of how these types of movies have changed over the years. And "Love, Simon" is a prime example of that fact.
Based on Becky Albertalli's 2015 novel "Simon vs. the Homo Sapiens Agenda," 17-year-old Simon Spier (Nick Robinson) has a fantastic and normal life with his loving family, whom he loves back, and his friends in high school---but he has a huge secret that he hasn't told anyone: he's gay. But when discovers that another high school student anonymously came out as gay under the name "Blue" on the school's blog, it gives the chance for Simon to finally relate to someone with the same feelings.
I enjoyed some of the most recent movies from the coming-of-age genre, so I was actually excited to see what "Love, Simon" had to offer. It should be noted that this is the first teen film released by a major studio to focus on a gay romance. This could be a groundbreaking gay romance or a touching, yet emotional, film that hits you in all the right places. But the reason why I loved "Love, Simon" is because it's one movie everybody must watch at some point in time. Director Greg Berlanti has been in the television circuit for a long time; he's been a writer on "Dawson's Creek" and the shows from the Arrowverse. But with "Love, Simon," he's tasked to take part of the romantic dramedy, and he handled it quite well. This is also a million times better than "Life as We Know It," his last film. Given the lack of movies where the main character is gay, this is the right movie to set standards right. Elizabeth Berger and Isaac Aptaker ("This is Us") adapted the screenplay from the novel, and it's such a well-written script. And while there might be some a couple high school clichés, it still works, even if doesn't feel that original. There are some engaging conversations between almost every character, and they felt totally genuine and not at all boring. The way Simon tries to figure out who he's been chatting with was pretty unique, and you can't help hoping that he finds that special someone, since he and his email pen pal get to know each other pretty well. Robinson is one of those young actors that's really shooting for a great leading role in his career. Coming a long way from "The Kings of Summer" and "Jurassic World, " his Simon is such a likable character that you instantly latch onto from the beginning. You feel connected to his hiding his secret, and with all the emotions that go along with that. Anytime Robinson's name is mentioned, this is the first thing that will pop into my head. Dealing with the stress of coming, Simon still has a well-meaning relationship with his parents (Jennifer Garner and Josh Duhamel), which are the perfect example of awesome parents in movies that you want to hang out with, and the chemistry between his core group of friends Leah (Katherine Langford, "13 Reasons Why"), Abby (Alexandra Shipp, "X-Men: Apocalypse") and Nick (Jorge Lendeborg Jr., "Brigsby Bear") is excellent. Amid of the tender moments sprinkled in the film, there were some hilarious moments that caught me off guard. The balance of dramatic and comedic scenes didn't derail the film, which is perfect. Most of the funniest scenes come from Tony Hale's vice principal trying to be cool around the students, as well as Natasha Rothwell's portrayal of the drama teacher. I did have one issue with the film, and that's the character of Martin (Logan Miller), who blackmails Simon into not telling his secret to anybody. He's basically the only character I really never cared about in the first place and anytime he's onscreen, it comes off as annoying and not redeemable in the end. We all have moments where we want to tell our friends our personal secrets, but we're nervous about how they'll react. Almost throughout my years in school and to this day, it's difficult to tell someone that you have feelings about someone. Will people treat you the same or differently? That's the struggle Simon faces throughout "Love, Simon." As a straight individual, I can't say I relate to Simon, but it's easy to understand where he's coming from, and the film exposes us to those moments where we're emotionally struggling and want to hug a friend or something. By the end, "Love, Simon" comes off as a relevant story that honestly touched me. Its subject matter can be applied to nearly everyone, as we can all really feel like we're in Simon's place with what he's going through. It's most definitely up there in the ranks of "The Perks of Being a Wallflower," "Lady Bird," "The Fault In Our Stars" and other great teen movies that pretty much defined the genre. And just like those movies, "Love, Simon" is going to be recognized as a classic in the near future. Searching for love can be the hardest thing to do in life (I can relate,) but sometimes we must open up to hopefully find it one day.
Heartfelt and relatable to almost everybody, "Love, Simon" is honest and well-told in one of the most charming and understandable teen romances to come out in recent years. Grade: A-
Print