---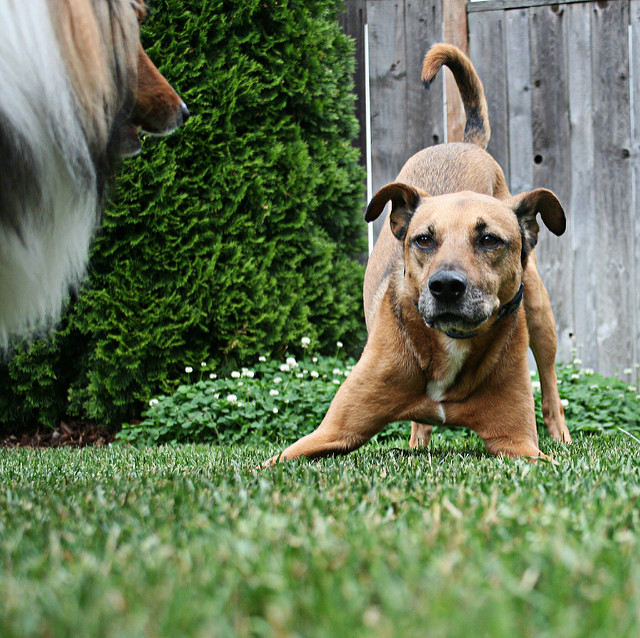 SOUTH BEND -- Warm and thoughtful eyes watch from behind the kennel gate. They hold a mix of uncertainty and hope. Uncertain because of an unfamiliar face, hopeful because it's adoption day. There's a question in those chocolate-colored eyes, "Dare I hope you're here for me?"
But until that question is a resounding 'yes' for each animal at Pet Refuge, they are lovingly cared for by dedicated volunteers who run the shelter. They create a warm and welcoming atmosphere that is felt when entering the shelter. There are separate wings for the dogs and cats, and there is a noticeable clamor dominating the wing housing man's best friend.
But amidst all the noise Maya, a two-and-a-half-year-old Shepard/Pit mix with unique coloring and curious eyes, is silent and shy. She was an owner surrender.
"The owner was given 72 hours to find a home for her," said Pam Comer, president of Pet Refuge, "Because [the mobile home park] was no longer accepting her breed."
Maya isn't the only dog to be persecuted for being a Pit bull/Pit mix, yet she is resilient all the same. Since arriving at the shelter in July, Maya has exhibited her personality to the fullest, Comer said.
"She's a clown, she's affectionate, friendly to the family, independent yet playful," Comer said. "Shy to visitors, talkative, and very active."
As with all dogs and cats entering through the shelter's doors, Maya must be prepared for adoption and a new life in her future forever home.
"Medically, all our animals are either spayed or neutered, they're up-to-date on shots if they aren't when they come in, the dogs are heartworm tested, and they are all microchipped," Comer said. "Emotionally, we do as much socialization as we can. In the dog department, they go for walks and are out in the play yard and agility yards. [For the cats] people come in and brush...and socialize with them."
Comer said those interested in volunteering need to fill out an application and specify their preference for working with dogs or cats, helping with fundraising, or working off-site events.
"It's a great place if you're looking to volunteer some time...you don't have to make a huge commitment. You can just come in for a couple of hours," she said.
To some volunteers, Pet Refuge isn't just a shelter, it's a family. Comer commented on the closeness of the group and how their relationships have grown beyond the shelter's doors.
"It's a community here. You get to know people, it's like having an extended family when you volunteer here," Comer said. "I didn't know [vice president] Nancy [Whiteman] before I came here, but we have gone on vacation together and done things together because...we have [Pet Refuge] in common."
The volunteers save as many pets as they can by taking in animals from other shelters, regardless of the distance. Some pets are even dumped on their doorstep. All are saved, and of course, the animals affected by natural disasters are no exception.
"We get pets every week. I'm picking up a six-and-a-half-year-old Yorkie tomorrow from Elkhart County Humane Society," Comer said. "We're going to get dogs and cats from Hurricane Florence coming in [as well]. Last year we had 11 hurricane Harvey dogs here. They all got homes, and that's what we do."
When it comes time for the hurricane pets to join others at the shelter, there will be no time limit to their stay. This is because Pet Refuge is a no-kill shelter.
"No-kill is never 'no-kill' . . . it's a label, because there are times when we have to euthanize...for medical reasons when there's nothing more that we can do," states Comer; "[But] we give animals the opportunity to live their life...we think about how we're going to make this dog or cat's life better. Once they're here, they're safe."
"Whether it's five days or five years...there's no deadline. You're here until you get adopted, or you pass away."
Print