---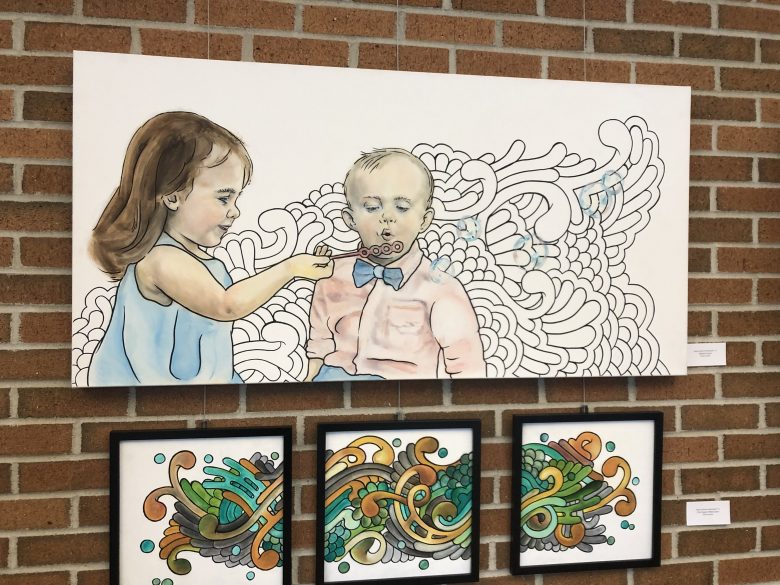 Mishawaka, IN---The alumni art group exhibition featured a few art pieces across the Great Hall in the Everest-Rohrer/Fine Arts Center. It opened on Nov. 16 at 11a.m., and will be displayed until Feb. 1, 2019.
Alyson Greene, who graduated from Davenport in 2013, used oil for each of her seven displayed paintings. Her largest painting spanned across almost half of the cornered wall and was named "Bubble Cousins." It showed two young children taking turns blowing bubbles.
Alyson's husband, Aaron Greene, who does his artwork in ink, featured both his animal and floral series. The animal series included five different animals; the floral series included three. Another of his series was a word series including four different words in black and white, just as the rest of his paintings were. He displayed 17 pieces in total.
Matthew Gillin included a letter of introduction of his pieces by a framed paper on the wall. He explained his watercolor paintings as pictures of his home in Puerto Rico. He includes both pre-hurricane and post-hurricane scenery.
He wished to express the tragic loss of homes and necessities because of hurricane Maria. The notecard-sized paintings expressed his empathy, but he hoped viewers can feel that empathy as well. He displayed 13 pieces in total.
Print