---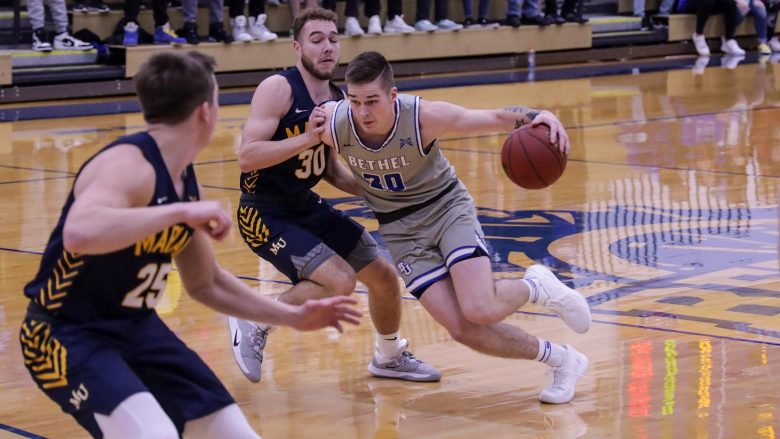 MISHAWAKA—It is no secret that Bethel is full of talented and skilled athletes who are always winning awards and breaking records. Students and faculty hear about the many things Bethel athletes accomplish in sports, but not much is known about the players themselves. This is a highlight of those accomplishments, as well as a little glimpse into the lives of the athletes. This week's Player of the Week is Grant Gelon, a guard on the Men's Basketball Team.
Recently, Gelon was featured on ESPN's SportsCenter Top Ten plays for basketball, which is a great accomplishment.
"It's a kid's dream come true to be up there and have your clip played on TV and SportsCenter," Gelon said. "All I can say is, it's what you grow up hoping for. It's a blessing and I have God to thank for it all. This is my fourth school in four years, and it's been a crazy time for me, so this is kind of like a sign that everything is coming together, and this is where I should be."
The featured clip of Gelon's play took place in the home game against Lawrence Technological University on Dec. 28, 2019. The men's basketball games are recorded, so the play was sent to ESPN and then featured in the SportsCenter Top Ten Basketball Plays.
Gelon has been playing basketball since five or six and always had a love for the game. He is from Crown Point, Indiana, and attended Crown Point High School. Gelon is a junior majoring in Sports Marketing.
Gelon came to Bethel because it really seemed like a good fit for him, and he previously knew Steve Drabyn, the head coach of the men's basketball team, from when Drabyn recruited him at a different university. Gelon was looking for another school when he heard that Drabyn got the job as the head coach at Bethel. They started talking, which resulted in Gelon choosing Bethel for his school, as well as for his team.
Print