---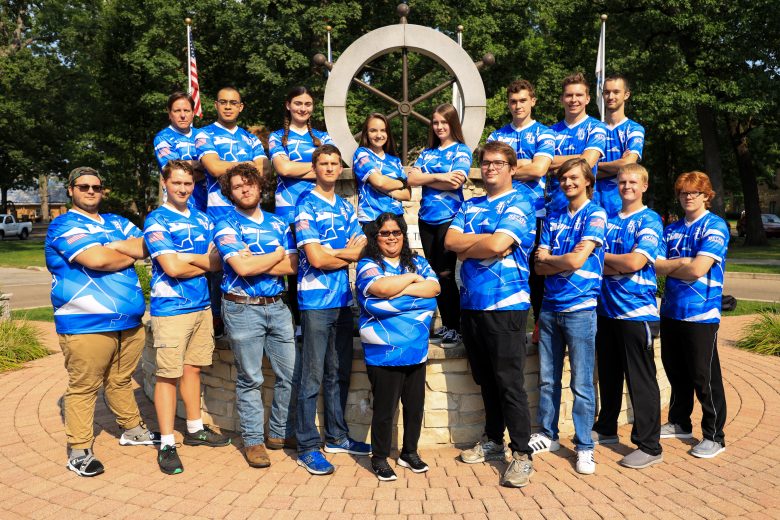 MISHAWAKA -- While many athletic teams across the country have had issues completing a full season during the COVID-19 pandemic, one sport is virtually immune to this problem.
Dan Wort, the Bethel University esports head coach, is grateful to have coached a full season.
"We were in a unique situation where esports is something that … they can still do online," Wort said. "So, there were times throughout the season where … we had kids in quarantine or whatever, but the nature of the sport is such that they can still compete."
The Bethel esports team is comprised of three sub-teams, one for each of the following games: Super Smash Bros., Overwatch and Rocket League. Despite the multiple postponed matches, Wort said all three sub-teams accomplished the goals he set out for them.
All three sub-teams each competed in at least 15 matches this season. They all also qualified for the Eastern College Athletic Conference playoffs.
While Wort said his team followed measures to prevent the spread of COVID-19, his athletes were still able to practice and compete in quarantine. When Freshman Cannon Harris had to quarantine, he had no problems adjusting to playing in his Oakwood dorm room.
"For me, quarantine did not present any challenges," Harris said. "Things just went on as normal. [I] just didn't meet in-person when we played in a match."
When an esports sub-team had a match, most of the athletes would meet in the basement of the Student Media Center or at Elkhart High School. However, quarantined athletes had to either play at home or in their dorm room like Harris.
The esports team will move their competitions to the Bendix Arena in South Bend, Ind. starting next semester. Wort said the Bendix Arena will likely be finished in December, so the team will use the space as soon they come back to campus.
"Eventually, we need to get to a point where we have kind of a dedicated lab on campus," Wort said. "Just from a competitive standpoint, all of the other schools that we're competing against having dedicated esports facilities on campus."
One of the biggest challenges the esports team faced this season was measuring up in skill level against opponents. Even though Harris played on his high school esports team, he said he noticed a big difference in college competition.
"In college, there's a big difference in skill level," Harris said. "I wasn't thinking that Bethel University was going to be a part of anything too huge because it's not like a Division I school. But some of tournament leaders were some of the best people in the world, which was kind of surprising to me."
Each esports athlete works on the mechanics of the video game they compete in. Like any sport, the more an athlete masters the mechanics of their game, the higher their skill level. The mechanics can look very different, depending upon the goal of the game and the individual athlete's role.
Freshman Reylyn Yoder also noticed the difference in skill level between Bethel and their opponents. When Bethel signed Yoder, he had previously played very little Overwatch. He played the game over the summer, but he still noticed a disconnect in skill.
"Overwatch is different from almost every [first person shooter game] you will ever play," Yoder said. "You have to be able to run and hit targets consistently."
In some games, like Fortnite, players must make a complete stop if they want to be able to shoot more accurately. In Overwatch, shooting accuracy is not affected by the shooter's movement. Increased shooting accuracy forces players to keep moving constantly to avoid being hit.
Another important aspect of Overwatch is communication and team chemistry. Over the course of the season, the Overwatch team had to learn how to communicate with one another.
"When you get into actual team play and competitive play at higher levels, [composition] can become very cluttered very quickly," Yoder said. "One person will say one thing and then you have to … scream over them and like, 'Hey, this person's here! I need help!'"
Developing good team chemistry and improving skill level takes a lot of practice. Originally, Wort envisioned all three sub-teams practicing together at the same time.
Freshman Makenna Perry, one of the team's student managers, said they quickly realized the whole team could not practice together. Since every athlete had such a different schedule, each sub-team had to meet on their own.
"Since it was the first official season for us, there was a lot of figuring things out and getting established," Perry said. "So, there was a lot of struggles that we had, but I think it was a really great foundation or launch pad."
While practices did not look the way Wort had envisioned, the team still formed a bond. Perry said she is close with a few of the athletes on the team. She said the team had a lot to look forward to this spring with continuing relationships built in the fall.
"We still have a lot to figure out of course," Perry said. "But I think that the team's worked really well together."
Print