---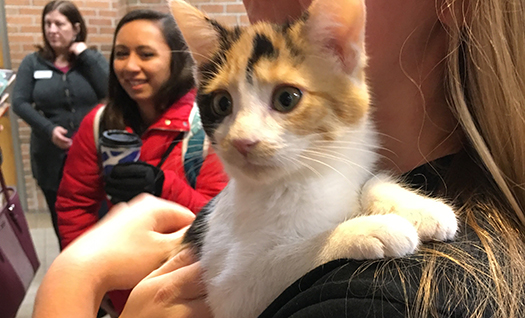 MISHAWAKA—Activities for finals week will be starting a little earlier than finals week. On Thursday, April 22, students will have the chance to smash computer parts with a sledgehammer. Students are required to sign a liability waiver and to wear goggles.
On Friday, April 23, massages are back. After having to be canceled in the fall of 2019 due to COVID-19 regulations, the blue level is allowing them to take place again. There are only 32 slots, but there is a wait list for the canceled appointments.
Kitten therapy returns on Monday, April 26, from 12:30 p.m. to 2:30 p.m.
Rachel Kennedy, who serves as the director of the Center of Academic services, has been planning the events for finals weeks since the fall of 2016 and is looking forward to students enjoying activities that they were unable to experience fully in the fall of 2019.
"I'm super-excited for a return of these events which many freshmen, and perhaps even sophomores, haven't really experienced," Kennedy said.
The events Kennedy is looking forward to the most are the animal events. She hopes that students can be blessed by having animals during the time when they often miss their animals at home the most.
Print