---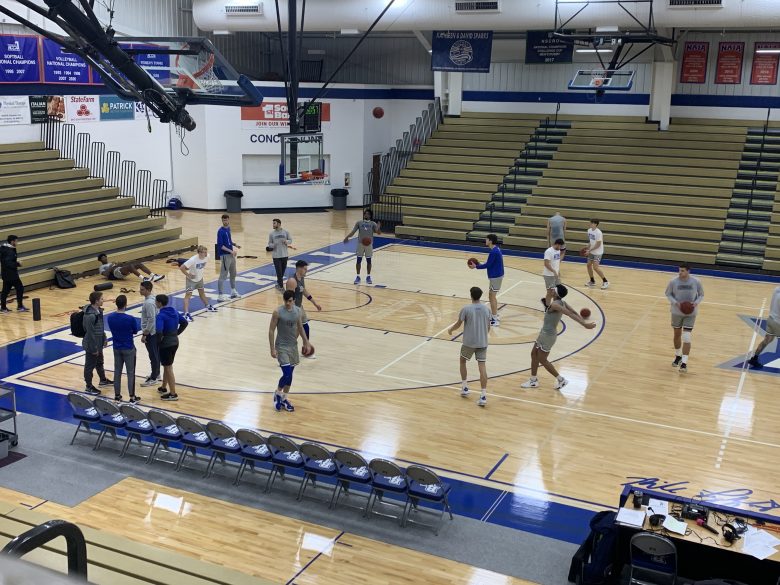 MISHAWAKA—Both the men's and women's basketball teams have undergone similar changes this year, as both teams lost key seniors and added new staff members. The women's team lost two 1,000-point scorers in Kelsey Brickner and Jessica Erwin and added Brandon Auker to its staff. As for the men's team, it lost two-time NAIA All-American TreVion Crews and added both Ryan McDaniel and Scott Polsgrove to its staff.
"We've had two scrimmages so far," Women's Basketball Coach Doug Porter said. "I was happy to see the intensity and competitiveness that we played with. We also do seem to have a good number of players that can score. One thing, I was disappointed that we didn't shoot free throws any better than we did because I think adapting to a new tempo is something that we will have to adjust to."
Despite having similar trends going into the season, the two teams have different expectations. For the women, the hope is to continue to build a young team into a winning program. The men, on the other hand, are coming off an elite eight run in the NAIA National Tournament a year ago and are hoping to prove that they belong at the top of the NAIA basketball scene.
"Expectations for me is continual improvement throughout the year," Men's Basketball Coach Steve Drabyn said. "To continue to develop on the things that we preach. We play fast with lots of player and ball movement. A growth mindset is one of our core values, just trying to get better each and every day."
Despite losing key seniors to graduation, both teams added four freshmen each to the roster. Both coaches are hoping that the incoming freshmen can add meaningful depth to their squads. For Coach Drabyn's team, Brandon Hunt and Drew Greene are going to be crucial players going forward. For the women, Coach Porter identified the trio of Maiah Shelton, Abby Williams and Addi Jones as key team members.
"The one thing they add to our team is enthusiasm," Porter said. "It's one characteristic that they bring to the team. We also have some really good athleticism in this class, and they are very positive and upbeat people. Those characteristics have already energized the entire team."
The other key trend that both teams have going for them is additions to their coaching staff. Porter added Brandon Auker to his staff, who has worked on the coaching staff of both the University of Indy and Loras College. Drabyn added both Scott Polsgrove and Ryan McDaniel. McDaniel joins the staff as a graduate assistant who played collegiately at the University of Alabama in Huntsville, and Polsgrove joined as an assistant coach with over thirty years of coaching experience. He even has previous ties with Drabyn, having given him his start in coaching at Kings College.
"Scott brings a wealth of experience to the staff," Drabyn said. "He's been a head coach for thirty-some years, so having his experience is just awesome. He gives opinions, suggestions, thoughts, drill and coaches our players well."
For more information about the men's and women's basketball teams, visit . As of Oct. 31, the men's team had won its first two games and the women's team had won its first three games.PHOTO CAPTION: The Men's Basketball team warming up for their game against Simmons College of Kentucky on Friday, Oct. 29, at the Weikamp Athletic Center.
Print