---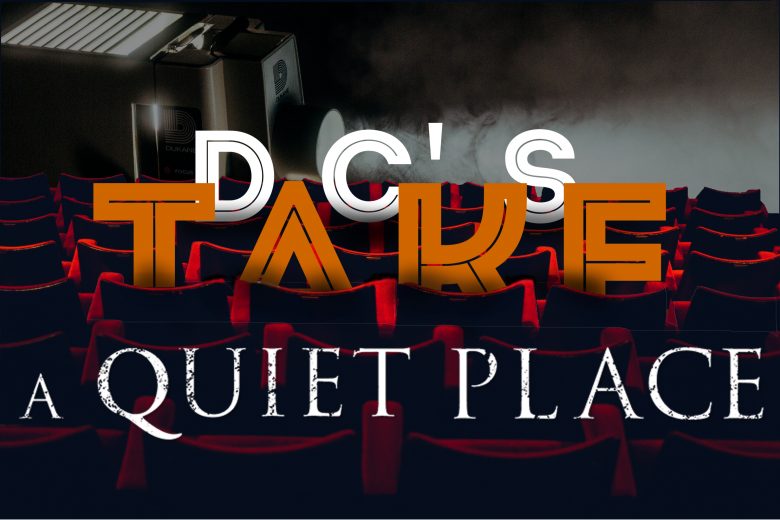 Imagine if you were in the world of recent thriller "A Quiet Place." You have to stay silent in everything you do in order to keep yourself and others alive. I don't know about you, but as someone who normally doesn't say that much, staying quiet to not attract certain things in my surroundings wouldn't be too hard.
As a simple summary, the Abbott family must navigate their lives in silence in a post-apocalyptic world after mysterious creatures that hunt by sound threaten their survival. Nobody can make any noise or they will know where they are.
Though I still think the horror genre is the laziest out there, I was honestly looking forward to "A Quiet Place" because of how interesting the plot was made out to be. The first trailer was one of the best trailers I've seen from a horror movie, and I didn't even watch the second trailer because I wanted to know as little as possible about the plot. Director and star John Krasinski has proven himself to be a very talented actor from "The Office" and even in "13 Hours". And we're finally seeing a movie featuring him and his wife Emily Blunt together (best celebrity couple currently). But if you were to tell me that Jim from "The Office" would be handling a horror movie, I'd say that's something to get excited about. As only the third film he's directed in his career, this 90-minute long thriller kept me wanting more when it was over. With Krasinski behind the camera, and co-written by Bryan Woods and Scott Beck, "A Quiet Place" was a really well-crafted thriller that didn't feel fake at any moment. Any horror movie gets a pass when it's something original and inventive with a simple story, just like here. The story takes place 89 days after some unexplained event happened. Most of Earth's population has vanished, and we only have a connection through this family: the Abbotts. Telling a simple story with only visuals and sound didn't come across as pretentious, but rather unique. It also has a touch of "It Comes at Night," "10 Cloverfield Lane" and "Signs." The overall direction is beautiful and very captivating at every point, choosing carefully when to use sound and when not to. Try to hold your breath when something scary is about to happen. "A Quiet Place" is filled with a lot of tension and chills. You feel like each one of the characters: trying not to make a sound or staying away from these creatures. The first opening ten minutes made me question what was going to happen. Even the people surrounding me in the audience didn't make a peep when these moments happened. But I would honestly advise anyone to not eat anything too crunchy and try not to cough while watching it, since it would probably be a total distraction. (It was, at least, for me, trying to stop my stomach from growling.) It has its fair share of jump scares, but they are well-constructed. A couple moments will lead you to the edge of your seat, just like myself. The cast is very limited, and Krasinski doesn't waste anyone of them. Given the fact that they can't say anything for a majority of the film, they use facial expressions to truly show their feelings. Krasinski and Blunt have some amazing chemistry as Lee and Evelyn, as any married couple should have. The two kids, Noah Jupe ("Suburbicon" and "Wonder") as Marcus and Millicent Simmonds ("Wonderstruck") as Regan were also excellent, and weren't annoying. It's a great role for Simmonds, because just like her character, she's also deaf in real life. Not including much talking might sound impossible to handle. There's minimal dialogue throughout. The film itself does a fantastic of characters communicating via sign language and whispering. Some might consider that concept boring, but it's what makes the film challenging that makes it worth seeing. I also need to give a lot of credit to the sound design, especially when they cut back fr0m Regan's perspective to the perspective of the other characters, since Regan has a hearing aid. Though some may be distracted by the use of Marco Beltrami's score when there should be silence and nothing else to build the suspense, it didn't bother me that much. The only issues I had is that there were a couple scenes in the first act that were a little slow and there should've been some kind of explanation about
how
the post-apocalypse world came to be. Some quick glimpses of newspaper articles suggest why, but there isn't a clear answer to how these creatures came about. Granted, I'm glad there wasn't a scene of just exposition. For me, it's horror movies like this that make me appreciate the genre a little bit more. That's probably why I actually enjoyed "Don't Breathe" or "Get Out," since they turned out to be some of the most memorable films in the genre, and "A Quiet Place" is going to be the next classic people will be talking about. Who knows if Krasinski's next film could top it? But Michael Bay's production company, Platinum Dunes, finally produced a great horror movie. Finally. It does feel like more of a thriller than horror, but it's something on which nobody can miss out.
Tense, affective and frightening with a smart, original premise, "A Quiet Place" doesn't fall short with John Krasinski's direction and performance. Grade: B+
Print